Iran Rejects Preconditions for Attending Geneva II Conference on Syria
TEHRAN (Tasnim) – An Iranian deputy foreign minister said the Islamic Republic rejects any preconditions for participating in the Geneva II conference on Syria.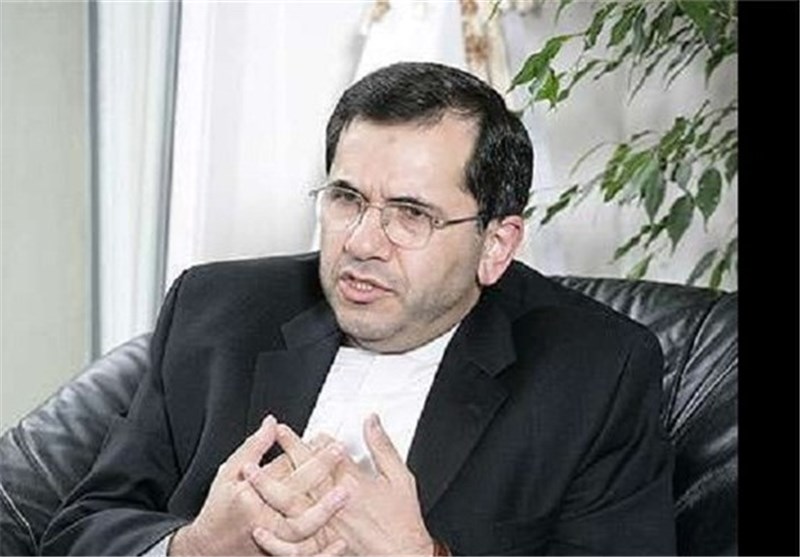 Iran's Deputy Foreign Minister for Euro-American Affairs Majid Takht Ravanchi on Monday expressed Tehran's preparedness to play a positive role in a second conference on Syrian crisis, due to be held in Geneva in late November, but at the same time rejected any preconditions for Iran's presence in the long-awaited gathering.
His remarks came in a meeting with Hannes Swoboda, head of a five-member delegation from the European Parliament, in Tehran.
The delegation of European Parliament lawmakers arrived in Tehran on Saturday for a four-day visit.
The European official, for his part, said any progress in the upcoming conference would hinge on Iran's presence in Geneva, given Tehran's influential role in the region.
In relevant remarks on Saturday, member of Iranian Parliament's National Security and Foreign Policy Commission Ahmad Bakhshayesh said Iran, with its active diplomacy, can help solve the Syrian conflict that has raged on for more than two years, but stressed that Tehran would accept no preconditions for its presence in the Geneva II conference.
"We are capable of resolving the existing problems in Syria in a manner that secures the interests of its people, but would not yield to any precondition in this respect for presence in Geneva II conference," he said at the time.
Earlier this month, US State Department said the United States might agree with Iran's participation in a potential Geneva II talks over Syria if Tehran backs the "Geneva I Communique" which called for a transitional government in Syria.
Iranian Foreign Ministry Spokeswoman Marziyeh Afkham said in response that her country would not accept any precondition for attending peace talks on Syria.
"If our presence (in peace talks on Syria) will help find a solution, setting precondition for inviting Iran to the talks is not acceptable, and we do not accept any condition," Afkham said.
The final communique issued on 30 June 2012, following the meeting of the so-called Action Group for Syria called for an immediate cessation of violence and the establishment of a transitional government that could include officials serving under President Bashar al-Assad and members of the opposition.
The Syrian government has already agreed to attend peace talks, as has Ahmed Jarba, the head of the umbrella opposition coalition. But many others from the fractious rebel groups as well as the extremist ones which are allied to al-Qaeda have rejected participating in any future talks that involve the Syrian government.
Syrian Deputy Prime Minister Qadri Jamil said on Thursday that a long-delayed international conference aimed to bring the Syrian government and opposition together to seek an end to the country's civil war is scheduled to be held November 23-24.