Lakhdar Brahimi Due in Tehran Tomorrow
TEHRAN (Tasnim) - UN-Arab League Special Envoy for Syria Lakhdar Brahimi will arrive in Iran's capital of Tehran on Saturday, October 26, to discuss the Syrian crisis with a number of Iranian officials.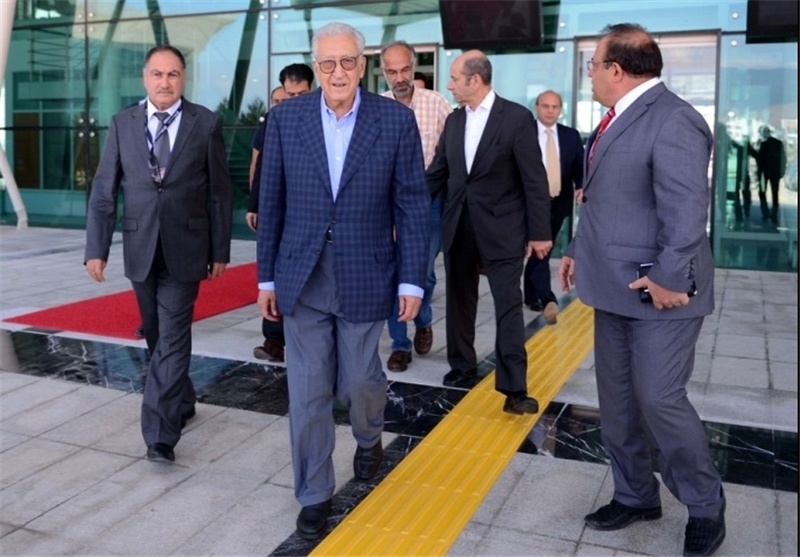 During his visit o Tehran, Brahimi will reportedly meet high-ranking Iranian officials in order to exchange views on the highly anticipated Geneva II conference on Syria.
Brahimi has also been to Egypt, Kuwait, Iraq and Turkey with the aim of pushing for the peace conference in Geneva next month.
He will reportedly leave Tehran on Saturday night for Lebanon, while his next destination is expected to be Damascus.
Meanwhile, UN spokesman Martin Nesirky said on October 17 that UN Secretary-General Ban Ki-moon and Brahimi both support Iran's presence in the forthcoming Geneva II conference.
In a meeting with Iranian Foreign Minister Mohammad Javad Zarif in New York on October 2, Ban also underscored Tehran's decisive role in the settlement of the crisis in Syria, stressing the need for Iran's presence in any international conference on Syria.
Iran rejects any conditions for taking part in a long-delayed peace conference on Syria, thus dismissing suggestions by the US and some other western countries that Tehran back a call for a transitional government in Damascus.
Russia and the United States have been pushing to hold the Geneva II conference, which is seen as a chance to find a political solution to the Syrian crisis. The event has been delayed for months.
Syria has been gripped by deadly unrest since 2011 which has killed more than 115,000 thousands people and forced more than 6 million others from their homes. Reports indicate that thewestern powers and their regional allies, especially Qatar, Saudi Arabia, and Turkey, are supporting the militants operating inside the country.
Several officials, including Arab League chief Nabil Elaraby, have said they expect the Geneva 2 conference to convene on November 23, though the United States, Russia and the United Nations have all said no date has been officially set.
And Syria President Bashar al-Assad has said his government will take part in the conference without preconditions, but suggested the prospects that it would reach a settlement were, at present, dim.
"No time has been set, and the factors are not yet in place if we want to succeed," he told al-Mayadeen TV channel on Monday.
Syrian deputy prime minister, Qadri Jamil, said in Moscow last week that a proposed peace conference in Geneva could take place November 23-24.