India Accuses Pakistan of Shelling Border Posts
TEHRAN (Tasnim) – India said that 8 people were injured after Pakistani forces fired guns and mortar shells at border post inside the Indian-administered Kashmir.
October, 25, 2013 - 16:45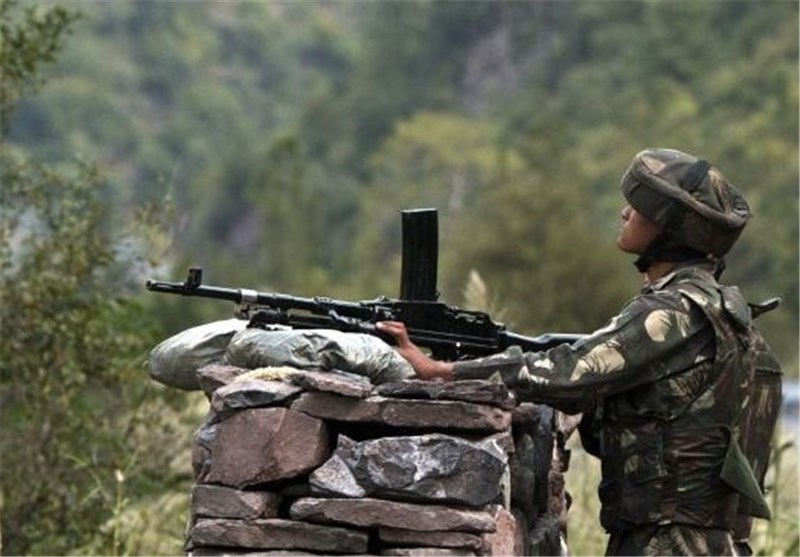 Two children were among those wounded, a Border Security Force official said, BBC reported.
Pakistan said the ceasefire violations were "a matter of great concern", but they had no information or comment about the latest incident.
In recent months, India and Pakistan have accused each other of unprovoked firing along the disputed border.
India says there have been nearly 200 violations of the decade-long ceasefire agreement since the beginning of this year.
On Wednesday morning, India said a paramilitary soldier was killed and many others were injured in firing overnight.
Earlier this month, the Indian army said it had fought gun battles with "30 to 40 Pakistan-backed militants" who had tried to infiltrate into India.
Officials said the militants made several attempts to enter the Keran area and that at least eight of them died in clashes over the last two weeks.
Officials accused Pakistani troops of shelling 17 border posts and hamlets in Jammu and Samba districts overnight.
They said India responded and the exchanges continued until early Friday morning.
On Friday, Jammu and Kashmir Chief Minister Omar Abdullah visited the injured in the hospital.
Reports say hundreds of villagers have fled their homes in border areas in recent days due to repeated firing from Pakistan.
In Islamabad, foreign ministry spokesman Aizaz Ahmad Chaudhry said he had no information or comment on the latest exchange of firing, but added that Pakistani troops did not fire indiscriminately and emphasised that Pakistan has no interest in creating problems along the border, reports Associated Press.
"Our troops have a policy. We will not indulge in firing first. But if we are fired upon we will give a responsible and effective response," he added.
The increased volatility along the border comes 10 years after the two countries agreed a ceasefire along the Line of Control (LoC), the de facto border that divides Kashmir between them.
In September, the prime ministers of the two countries met in New York and agreed to maintain peace on the border, but correspondents say their pledge seems to have made little difference on the ground.
Earlier this week, Pakistani Prime Minister Nawaz Sharif vowed to go the "extra mile" to make peace with India, saying while on a trip to the US that the two countries can resolve all issues including Kashmir through dialogue.
The two nations have fought three wars since the subcontinent's partition in 1947, two of them over Kashmir, a territory both claim in full but only partly control which continues to be the main source of tension between the arch rivals.