Brahimi Calls Iran's Presence in Geneva Talks on Syria "Necessary"
October, 26, 2013 - 17:49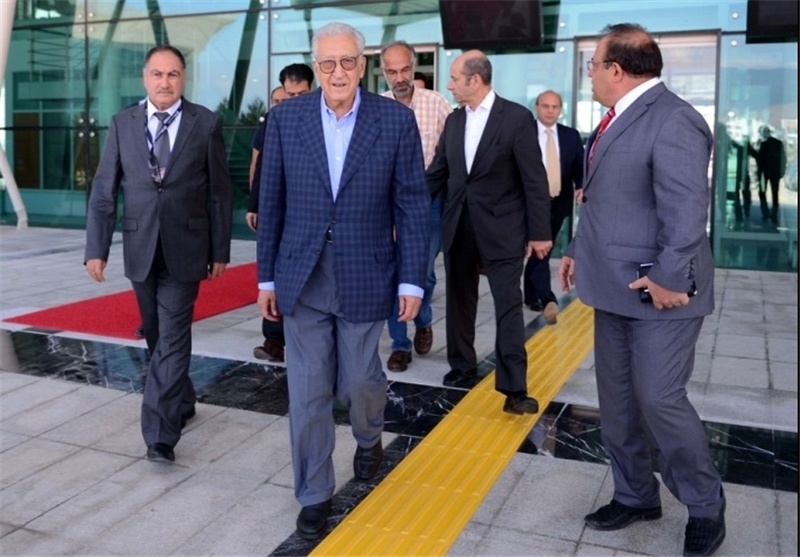 TEHRAN (Tasnim) - UN-Arab League Special Envoy to Syria Lakhdar Brahimi said the Islamic Republic's participation in the forthcoming Geneva conference is "natural, necessary and beneficial."
During a joint press conference with Iran's Foreign Minister Mohammad Javad Zarif on Saturday, Brahimi reiterated the importance of Tehran's participation in the Geneva 2 conference.
When asked whether Iran has been formally invited to the conference, Brahimi said no country has been invited yet to the talks but he expressed hope that Iran would be invited.
Brahimi arrived in the Iranian capital, Tehran, on Saturday to discuss the ongoing crisis in Syria with Iranian officials.
The UN-Arab League envoy is currently on a Middle East tour to gather support for the Geneva meeting, which is scheduled to be held in November.
Brahimi arrived in the Turkish capital Ankara on Thursday after visiting Egypt, Jordan, Iraq and Kuwait, Press TV reported.
Describing the ongoing crisis in Syria as complicated, the UN-Arab League joint envoy Syria's neighboring countries are the best option to help Damascus end the unrest.
Brahimi said resolving the crisis in Syria requires the help and cooperation of all countries.
Zarif, for his part, said if formally invited, Iran will participate in the Geneva conference to contribute to finding a political solution to the Syrian crisis.
Syria has been gripped by deadly unrest since 2011. According to reports, the Western powers and their regional allies -- especially Qatar, Saudi Arabia, and Turkey -- are supporting the militants operating inside Syria.
According to the United Nations, more than 100,000 people have been killed and millions displaced in the violence.