Reports: Obama Aware of Spying on Merkel
TEHRAN (Tasnim) - A German newspaper has reported that US President Barack Obama knew his intelligence service was eavesdropping on Angela Merkel as long ago as 2010, contradicting reports that he had told the German chancellor he did not know.
October, 28, 2013 - 13:24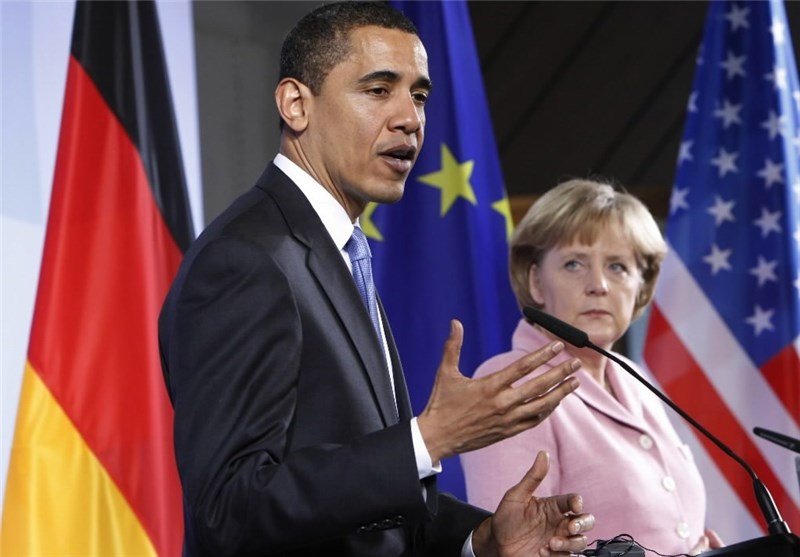 Germany received information this week that the US National Security Agency (NSA) had bugged Merkel's mobile phone, prompting the German government to summon the US ambassador.
The NSA denied that Obama had been informed about the operation by the NSA chief in 2010, as reported by the German paper Bild am Sonntag on Sunday.
But the agency did not comment directly on whether Obama knew about the bugging of Merkel's phone, Al Jazeera reported.
Both the White House and the German government declined comment.
The Wall Street Journal reported on Sunday that the NSA ended the programme that involved Merkel after the operation was uncovered in an Obama administration review that began this summer.
The programme also involved as many as 35 other world leaders, some of whom were still being monitored, according to the report, which was attributed to US officials.
Caitlin Hayden, US National Security Council spokeswoman, said in a statement that Obama had ordered a review of US surveillance capabilities.
Citing a source in Merkel's office, some German media have reported that Obama apologised to Merkel when she called him on Wednesday, and told her that he would have stopped the bugging happening had he known about it.
Germany will send its own spy chiefs to the US next week to demand answers following the allegations.
The NSA first eavesdropped on Merkel's predecessor Gerhard Schroeder after he refused to support President George W Bush's war in Iraq and was extended when Merkel took over in 2005, Bild am Sonntag said.
Eighteen NSA staff working in the US embassy, just 800 metres from Merkel's office, sent their findings straight to the White House, rather than to NSA headquarters, the paper said.
Only Merkel's encrypted landline in her office in the chancellery had not been tapped, it added.