The Blame Game: NSA Chief Points Finger at US Diplomats in Spy Scandal
TEHRAN (Tasnim) - In an unexpected twist in the NSA scandal, spy chief Keith Alexander blamed US diplomats for ordering surveillance on EU politicians.
November, 01, 2013 - 15:03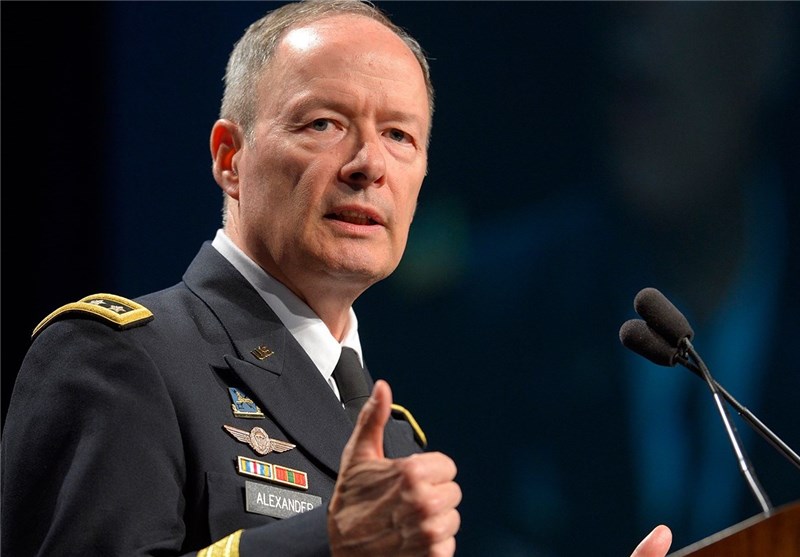 Indicating a rift between the White House and the NSA, Director of the spy organization, Keith Alexander, has accused "policy makers" and "diplomats" for dictating the targets for surveillance. In a heated exchange, former ambassador to Romania, James Carew Rosapepe, challenged Alexander to justify spying on US allies, reported the Guardian.
"We all joke that everyone is spying on everyone," he said. "But that is not a national security justification," said Rosapepe.
Alexander replied sharply to the question, alleging ambassadors had a hand in ordering spy activities, RT reported.
"That is a great question, in fact as an ambassador you have part of the answer. Because we the intelligence agencies don't come up with the requirements, the policymakers come up with the requirements," Alexander said.
He added sarcastically: "One of those groups would have been, let me think, hold on, oh! - ambassadors."
As the NSA points the finger at the Obama Administration for ordering the mass surveillance of European citizens, the White House is seeking to distance itself from the scandal, intimating the NSA was acting of its own volition.
Secretary of State John Kerry addressed the accusations, that the NSA recorded millions of European citizens' telephone calls, in a video conference to London on Thursday. Kerry conceded that US surveillance had "reached too far" and stated that the NSA had been conducting its espionage on "automatic pilot."
Washington came under fire this week when a delegation from the EU came to get answers over the NSA's activities in Europe. According to the revelations released by former CIA worker, Edward Snowden, to the press, the US not only targeted regular citizens, but also businessmen and high-profile politicians.