Zarif, Brahimi Consult on Syria in Geneva
TEHRAN (Tasnim) – Iranian Foreign Minister Mohammad Javad Zarif who is in Geneva for nuclear talks with world powers held a meeting with UN-Arab League Envoy Lakhdar Brahimi on Thursday to exchange viewpoints on the Syrian crisis.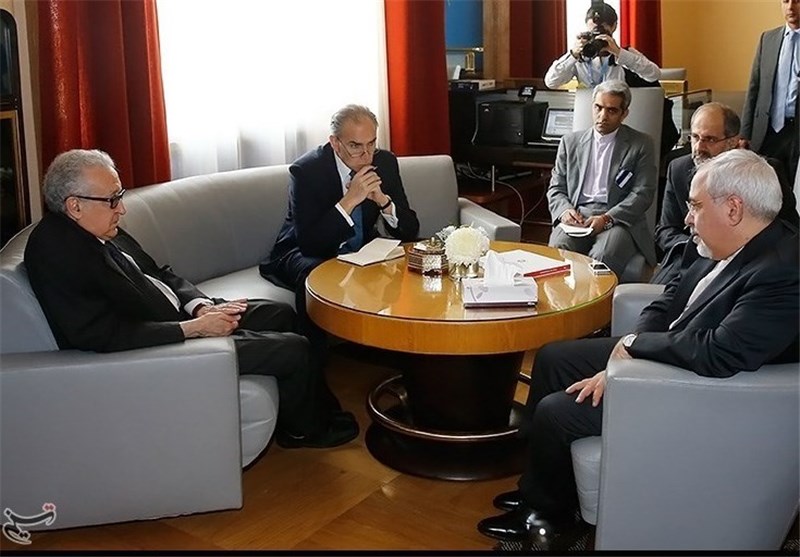 The two officials' talks, aimed at seeking a political solution to the lingering crisis in the Arab country, included reviewing the latest developments in that Arab country and the upcoming Geneva 2 peace talks.
Zarif once again emphasized that Syria-Syria talks would be the best way to resolve the crisis there and appreciated Brahimi's efforts aimed at seeking an exit from the crisis.
He also welcomed the international community's new realistic approach to the Syrian crisis and the humanitarian contribution to the Syrian nation.
The UN-Arab League Envoy Lakhdar Brahimi, for his part, elaborated on the efforts he has made during the last few weeks to help find a negotiated settlement to the crisis.
Brahimi said on Tuesday that a peace conference he had hoped to hold in Geneva this month has been delayed but he is still striving for a summit by the end of the year.
Attempts to set up a conference have been going on for months amid disputes over who should attend and its agenda.
Brahimi said he would meet US and Russian diplomats again on November 25. "We were hoping that we'd be in a position to announce a date today, unfortunately we're not," he told reporters.
The proposed peace talks have repeatedly been delayed because of disagreements over who should be represented at the meeting. Many Syrian rebel groups have refused to come to the negotiating table unless President Bashar al-Assad stepped down.