Mann Describes Geneva Talks as "Complicated, Serious"
TEHRAN (Tasnim) - European Union Spokesman Michael Mann said that Iran and the six world powers have entered serious and complicated talks as the two sides ended their first round of negotiations in Geneva, Switzerland.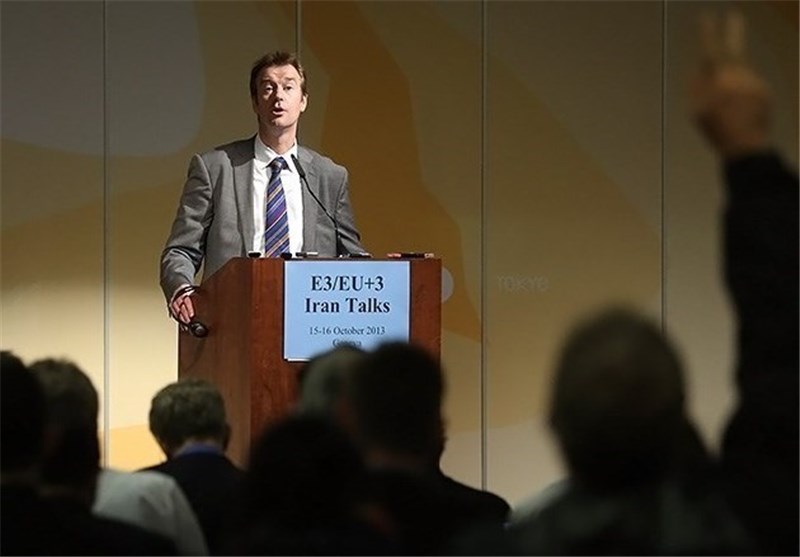 Iran and the Group 5+1 (also known as P5+1, the five permanent UN Security Council members plus Germany) ended their first round of talks after 45 minutes.
They plan to continue talking this afternoon.
Speaking to reporters, Mann said the upcoming meetings will be held in new formats. Spokesman for EU foreign policy chief Catherine Ashton, however, refrained from giving further details about new formats.
As regards ongoing talks, Mann said that the talks have become complicated, and added, "We have entered details. We had a number of meetings yesterday and the one hour meeting between Zarif and Ashton was very good."
"More progress needs longer time. But at this stage I cannot talk about progress in the negotiations," said Mann, adding the negotiating parties had unprecedented talks about details, and expressing hope that the talks would yield tangible results.
He said that the western side is seeking "more transparency" in Iran's nuclear program, adding that the world powers are asking Iran to guarantee that its program is peaceful.
That is while Iran's nuclear activities are under full supervision of the International Atomic Energy Agency (IAEA) and the agency has so far found no evidence about military diversion in Iran's nuclear program.
Earlier, Iran's chief nuclear negotiator called on members of the G5+1 who are holding a second round of talks with Iran on its nuclear program to seriously pursue the negotiations to reach tangible results.
He also voiced satisfaction with his today's talks with Ashton.
Iran's top nuclear negotiator described the talks ahead as highly labored, saying the aim was to cross over the wall of distrust created by western policies.