Iran Optimistic about Talks with IAEA: Official
TEHRAN (Tasnim) – Head of the Atomic Energy Organization of Iran said Thursday that Director General of the UN nuclear agency Yokia Amano will visit Tehran on November 11 to attend the next round of Iran-IAEA talks, adding that Tehran is optimistic about the 13th round of talks with IAEA.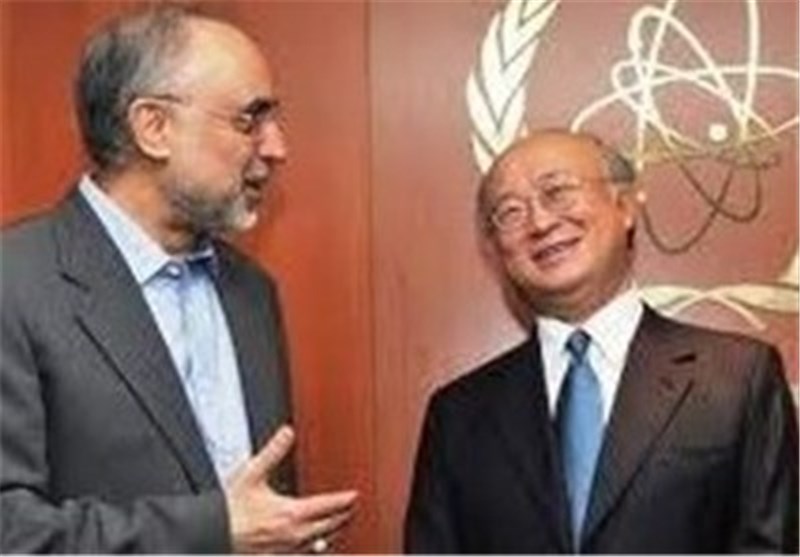 Speaking with reporters in Tehran, Ali Akbar Salehi, however, refrained from answering a question on whether the top IAEA official would visit the Iranian nuclear sites.
"I will talk about that issue later on," he said, adding that he was quite optimistic about the outcome of the upcoming talks with the agency.
"The IAEA had already accepted the peaceful nature of a major part of our nuclear activities during the time of Mr. Larijani and Mr. Jalili and what has remained now is a series of alleged studies which need to be dealt with," said Salehi, who also expressed optimism about the upcoming talks with the UN nuclear watchdog.
Ali Larijani, the current parliament speaker, was the secretary of Iran's Supreme National Security Council and top nuclear negotiator from August 2005 to October 2007 and was succeeded by Saeed Jalili who held the position until September 2013.
Salehi had earlier said that the Atomic Energy Organization had invited Secretary General of the International Atomic Energy Agency Yokia Amano to visit Iran on November 11.
According to a joint statement by the IAEA and the Islamic Republic, the next round of negotiations between the two sides will be held in the Iranian capital of Tehran on November 11.
Iran and the UN nuclear agency wrapped up the second day of technical nuclear talks at the headquarters of IAEA in Vienna, Austria, on October 29.
After the two-day negotiations -- the 12th round of such meetings since January last year -- Iran and the IAEA issued a joint statement in which they described the discussions as substantive.