Zarif, EU's Ashton Due to Meet again Today
TEHRAN (Tasnim) – Iranian Foreign Minister Mohammad Javad Zarif and the European Union Foreign Policy Chief Catherine Ashton are scheduled to hold another bilateral meeting today, the third of such sessions in as many days.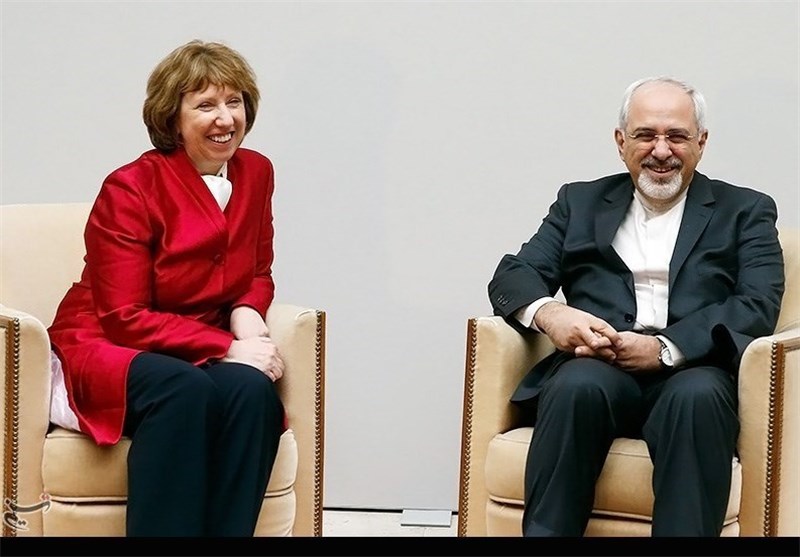 Today's meeting between chief nuclear negotiators representing Iran and the six major world powers is set to kick off in the Swiss city of Geneva at 8:30 local time (0730 GMT).
Iran's foreign minister, who also leads the team of Iranian negotiators, has already had two other bilateral meetings with Ashton over the past two days.
Michael Mann, the EU foreign policy chief's spokesman, said on Friday that the second bilateral meeting between Iran's chief negotiator and Catherine Ashton was "good".
Later on Friday, a trilateral meeting, held at the EU headquarters in the Swiss city, brought together the Iranian foreign minister, US secretary of state and the EU foreign policy chief.
"Over the course of the evening, we continued to make progress as we worked to narrow the gaps. There is more work to do. The meetings will resume tomorrow morning," a senior State Department official said.
Hoping to make an official announcement, Kerry was joined Friday by his counterparts from Britain, France and Germany.
Russian Foreign Minister Sergei Lavrov and China's foreign minister or his deputy are expected to come to Geneva on Saturday, fueling optimism that the presence of top diplomats from the six countries negotiating with Iran was the prelude to the announcement of a deal.
"The negotiations have reached (a) critical, very sensitive situation, and it needs decisions at higher levels," Iranian Deputy Foreign Minister Abbas Araqchi told reporters in Geneva.
The ongoing talks between Iran and the G5+1 (the five permanent members of the UN Security Council plus Germany) over Tehran's peaceful nuclear program kicked off in Switzerland on Thursday, November 7.
The negotiations are aimed at bringing the West's standoff over the Islamic Republic's peaceful nuclear program to an end.