Iran's Top Negotiator: Time for Agreement among G5+1 Members
TEHRAN (Tasnim) – Iran's Chief Negotiator Mohammad Javad Zarif said at the end of trilateral talks with Russian counterpart and the EU foreign policy chief that it is the world powers' turn to reach an agreement among themselves over a deal with Iran.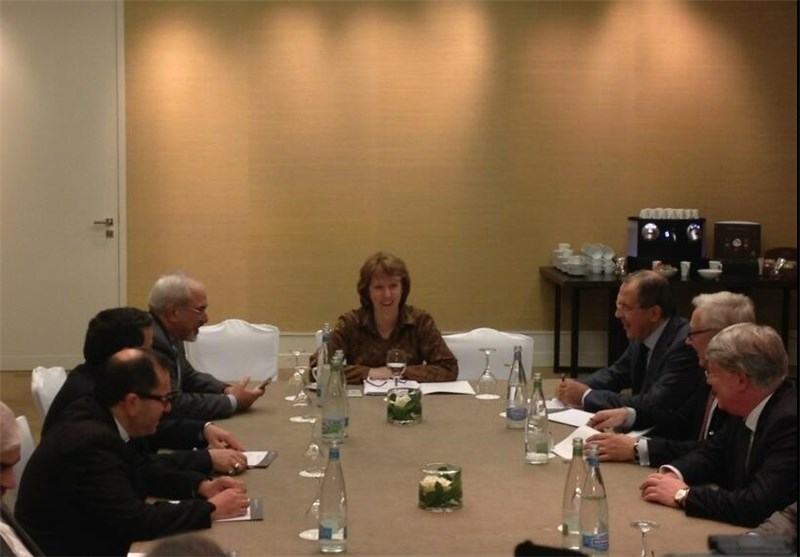 "Finally, they (world powers) have to reach a deal," Zarif said after a meeting with Sergei Lavrov and Catherine Ashton in Geneva.
"We are here to resolve the nuclear issue," he told reporters.
Speaking prior to the meeting with Lavrov and Ashton, Zarif had said that negotiators are discussing how to draft a deal on which all the 7 negotiating parties could reach agreement.
Iran's top negotiator said the phase is very difficult, but at the same time noted that all of Iran's concerns have been mentioned.
He further raised the possibility that Iran and the Group 5+1 (the five permanent UN Security Council members plus Germany) can hold another round of talks within the next 7 to 10 days.
This round of talks which was initially supposed to last for two days (November 7-8) was extended into Saturday after signs that an agreement on Iran's nuclear program was within reach.
Sudden progress in meetings between Iran and the group of nations known alternatively as the G5+1, P5+1 or EU3+3 -- the United States, France, Britain, Russia, China and Germany -- comes after years of stalemate between western nations and Iran over its nuclear program.
Negotiations on an agreement with Iran over its nuclear program ran into headwinds on Saturday after French Foreign Minister Laurent Fabius said his country did not accept the initial draft hammered out by the negotiating sides.
"There is an initial draft that we don't accept ... at the moment I have no certainty that we can reach a conclusion," the French minister said on Saturday morning.
Hopes that a deal was at hand were raised when US Secretary of State Kerry cut short a trip to the Middle East to fly to Geneva on Friday. But he, too, sought to lower expectations, saying upon arriving in Geneva that an agreement had not yet been reached and that gaps needed to be narrowed.