Iran Ready to Dispatch Humanitarian Aid to Philippines
TEHRAN (Tasnim) – The Iranian Red Crescent Society announced its readiness to dispatch humanitarian aid to the Philippines, after Typhoon Haiyan, one of the most powerful storms ever recorded, blasted into the Philippines on Friday, killing thousands of people.
November, 10, 2013 - 17:14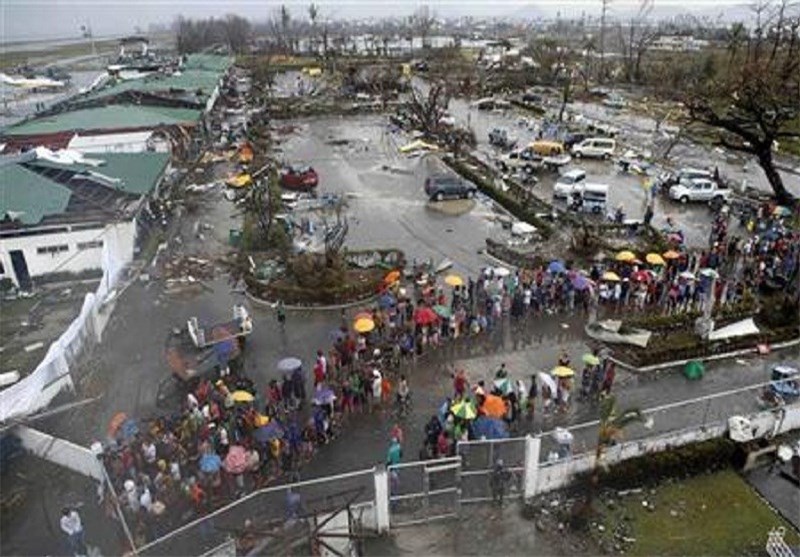 The Iranian Red Crescent Society has also sympathized with the Filipino nation and government, particulalry with the families of the victims of one of the strongest storms on record that ravaged the central Philippine city of Tacloban.
Iranian Foreign Ministry Spokeswoman Marziyeh Afkham sympathized with the nation and government of the Philippines on the death of people in the recent devastating typhoon.
In a message on Saturday evening, Afkham expressed Iranian nation and government's deep sympathy with "hundreds of Filipino victims" of Haiyan Typhoon, particularly in Tacloban city.
In her message, the Iranian spokeswoman also expressed the hope that the noble Filipino nation "would leave behind this tough phase."
After laying waste to huge swaths of the Philippines, flattening villages and washing bodies into the water, Typhoon Haiyan is set to bring more devastation to Vietnam.
While the massive storm barreled across the South China Sea on Sunday, many Filipinos grappled with devastation like they've never seen before.
Up to 10,000 are said to have died in Tacloban city and hundreds elsewhere. Hundreds of thousands are displaced.
The typhoon destroyed homes, schools and an airport in Tacloban. Relief workers are yet to reach some towns and villages cut off since the storm.
Thousands of troops have been sent to the disaster zones and military cargo planes are flying in supplies. However, rescuer efforts have been hampered by debris and damaged roads.
Relief efforts are being focused on the eastern province of Leyte and its capital Tacloban. But officials in the city are struggling to distribute aid as looting is said to be widespread and order was proving difficult to enforce.
In some areas, the dead are being buried in mass graves. There is no clean water, no electricity and very little food.