Thousands Protest Austerity in Greece
TEHRAN (Tasnim) - Thousands of activists from Greece's main left-wing opposition party Syriza demonstrated against austerity measures in Athens as the government faced a no-confidence vote.
November, 11, 2013 - 12:18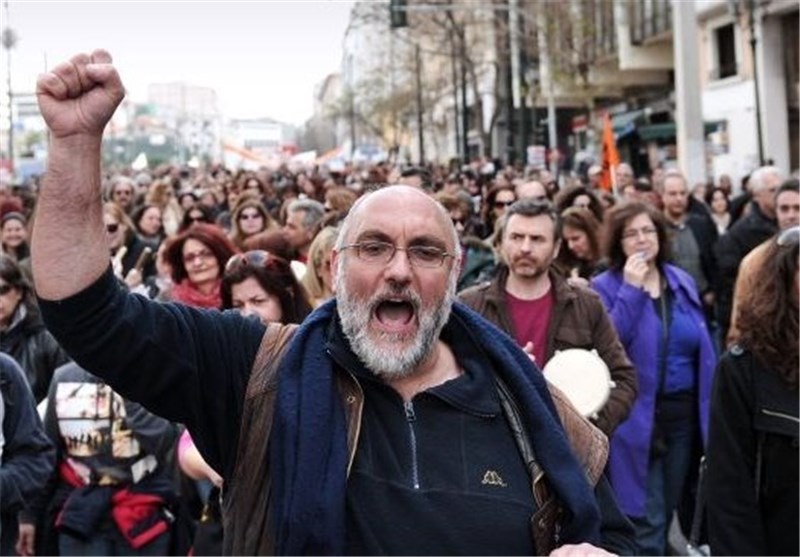 Police estimated the crowd at 2,000 protesters, while journalists and organisers said 5,000 came out in the Greek capital to call for the government to stand down. Banners read: "Go now" and "No to austerity policies".
The demonstration took place as parliament debated a no-confidence motion introduced by Syriza, AFP reported.
The motion was presented after police cleared the former headquarters of the now-closed ERT state broadcaster of disgruntled employees who had been occupying it for five months.
Syriza said the no-confidence motion against conservative Prime Minister Antonis Samaras's coalition government was over its "catastrophic policies".
The government is considering new austerity measures with the troika of bailout lenders comprising the International Monetary Fund, the European Union and the European Central Bank.
The debate on the no-confidence motion began Friday and was due to end late Sunday.
Syriza looked to have little chance of having the motion carried. Even with three other parties -- the communist KKE, the populist Independent Greeks and the neo-Nazi Golden Dawn -- voting with it, it would be 21 seats short of the 151-vote absolute majority needed.