Iranian Web Users Hammer French FM
TEHRAN (Tasnim) – As France is said to have blocked a possible nuclear deal between Iran and six major world powers in Geneva talks, French Foreign Minister has come under fire in Iran for sabotaging the talks, with many Iranian Internet users flooding his Facebook page with critical comments.
November, 12, 2013 - 12:45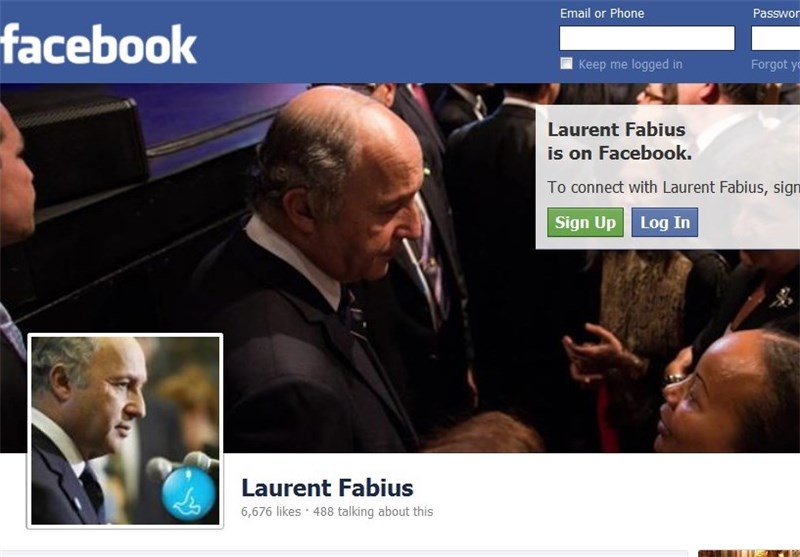 The official Facebook page of Laurent Fabius saw a large influx of protests posted by Iranian web users, who are apparently enraged by the French minister's stances in Geneva on a nuclear deal between Tehran and the six major world powers.
Iran and the G5+1 (the five permanent members of the UN Security Council plus Germany) wrapped up three days of intensive talks over Tehran's nuclear program in the Swiss city of Geneva in early Sunday.
Failing to agree on a deal, the sides have agreed to resume talks on November 20, again in Geneva.
Speculations about Paris' possible role in blocking an interim deal in Geneva talks were corroborated after French Foreign Minister Laurent Fabius told France Inter radio on Saturday that there were major stumbling blocks in an initial proposed text on a nuclear deal with Iran, despite optimism from other countries negotiating with Iran.
"There is an initial draft that we don't accept... at the moment I have no certainty that we can reach a conclusion," the French minister said on Saturday morning.
And before a joint press conference between top negotiators representing Iran and the G5+1 early on Sunday, Fabius said the three days of negotiations had ended without a deal.
"The meetings in Geneva have made it possible to move forward... But we have not yet managed to conclude, because there are still some questions remaining to be dealt with," he said.