Philippine President Lowers Typhoon Death Toll Estimate
TEHRAN (Tasnim) - The death toll from Typhoon Haiyan's rampage through the Philippines is closer to 2,000 or 2,500 than the 10,000 previously estimated, President Benigno Aquino said on Tuesday.
November, 13, 2013 - 10:20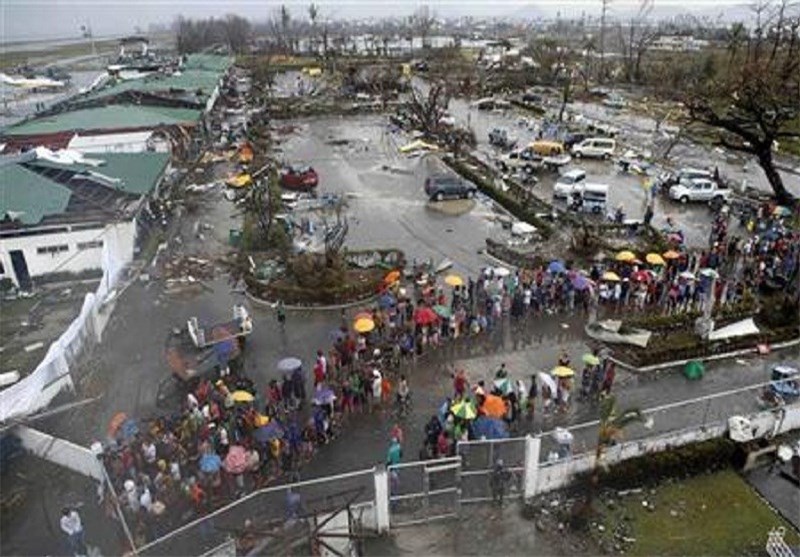 "Ten thousand, I think, is too much," Aquino told CNN in an interview. "There was emotional drama involved with that particular estimate."
Aquino said the government was still gathering information from various storm-struck areas and the death toll may rise.
"We're hoping to be able to contact something like 29 municipalities left wherein we still have to establish their numbers, especially for the missing, but so far 2,000, about 2,500, is the number we are working on as far as deaths are concerned," he said.
Philippine officials have been overwhelmed by Haiyan, one of the strongest typhoons on record, which tore through the central Philippines on Friday and flattened Tacloban, coastal capital of Leyte province where officials had feared 10,000 people died, many drowning in a tsunami-like wall of seawater.
The earlier figure of 10,000 feared killed came from a police officer and local official and may have arisen from the "emotional trauma" of being at the centre of the disaster, Aquino said.
He said 29 municipalities had yet to be contacted to establish the number of victims there.
The National Disaster Risk Reduction and Management Council (NDRRMC) has put the official death toll at 1,833, as of 06:00 local time (22:00 GMT) on Wednesday. The number of injured stands at 2,623 with 84 listed as missing
Relief supplies poured into Tacloban along roads flanked with corpses and canyons of debris as the rain fell again. Rescue workers scrambled to reach other towns and villages still cut off, which could reveal the full extent of the casualties and devastation.
"There are hundreds of other towns and villages stretched over thousands of kilometers that were in the path of the typhoon and with which all communication has been cut," said Natasha Reyes, emergency coordinator in the Philippines at Médecins Sans Frontières.
"No one knows what the situation is like in these more rural and remote places, and it's going to be some time before we have a full picture."
Despite the increased aid effort, many survivors still badly need food, water and shelter, aid officials say.
According to the BBC, there has been criticism of relief efforts, as the damage to transport links and bad weather are hindering distribution of relief supplies.
The UN says more than 11 million people are believed to have been affected and some 673,000 displaced, while many others have no access to food, water or medicine.
On Tuesday the UN launched an appeal for $301m to help survivors. It has already released $25m to meet immediate needs.
World Bank President Jim Yong Kim said the development lender was considering boosting its conditional cash transfer program for the Philippines in the wake of the storm.