Afghan Farmers Plant Record High Opium Crop, UN Report Says
TEHRAN (Tasnim) – Afghan poppy cultivation was 36% up on last year, with concern that profits will go to warlords jockeying for power ahead of a presidential election next year.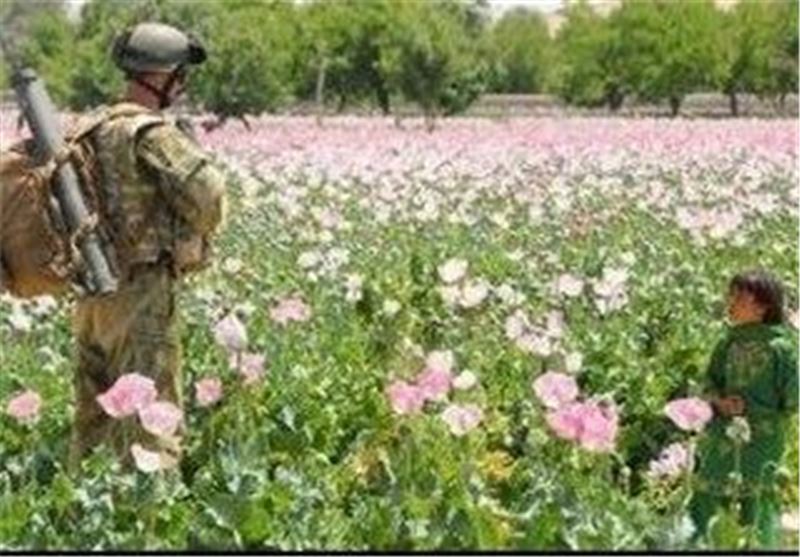 Afghanistan's farmers planted a record opium crop this year, despite a decade of western-backed narcotics programs aimed at weaning farmers off the drug and cracking down on producers and traffickers.
For the first time over 200,000 hectares of Afghan fields were growing poppies, according to the UN's Afghanistan Opium Survey for 2013, the Guardian reported.
Violence and political instability mean there is unlikely to be any significant drop in poppy farming in the world's top opium producer before foreign combat troops head home next year, a senior UN official warned.
"This is the third consecutive year of increasing cultivation," said Jean-Luc Lemahieu, the outgoing Afghanistan director for the UN Office on Drugs and Crime, which publishes the report. "The assumption is that the illicit economy is to gain in importance in the future."
He said that the illegal economy was taking over in importance from legitimate business, and that prices remained high since there was a ready availability of cash in Afghanistan because of aid.
The consequences of Afghanistan's huge opium production have had an effect across society here. There are believed to be more than a million opium and heroin addicts - one of the largest levels in the world - taking advantage of plentiful supplies.
The total harvest was probably slightly lower than the previous peak five years ago, mostly because bad weather meant each plant yielded less of the sticky narcotic. But the number of fields turned over to poppy is a more accurate gauge of farmers' enthusiasm for the crop and the government's ability to control it than the final production figures.
Because the value of opium is so much higher than any other crop available to Afghan farmers, it has become the only way for many to cover the basic expense of large families.
"Opium cultivation in the food zone increased by half … [but] outside the food zone the extent of poppy cultivation was far greater," the report said.
Eradication efforts slowed and became much more dangerous, with 143 people killed while trying to uproot crops, up by nearly half from a year before, while nearly 100 others were injured.
Northern Badakhshan province was the only place in Afghanistan where authorities managed to destroy more than half of the poppy planted; elsewhere teams made small inroads to large harvests.
Half of the cultivation area is in Helmand province. Meanwhile two northern provinces which had previously been declared poppy-free - Faryab and Balkh - lost that status.
One of the few bright spots was greater control of the drugs trade, with beefed-up drugs police seizing over 10% of production, up from just 3% or 4% a few years ago, Lemahieu said.
But the country also needs to work out how to tackle a growing addiction problem from a product that was once used largely for export or in moderation as a medication. Now over 1 million Afghans – around 3% of the population – have an opium or heroin habit.