To Succeed, Nuclear Accord Must Recognize Iran's Rights: Zarif
TEHRAN (Tasnim) – Iranian foreign minister said any possible nuclear deal should be palatable to Iran and recognize the undeniable rights of the Iranian nation.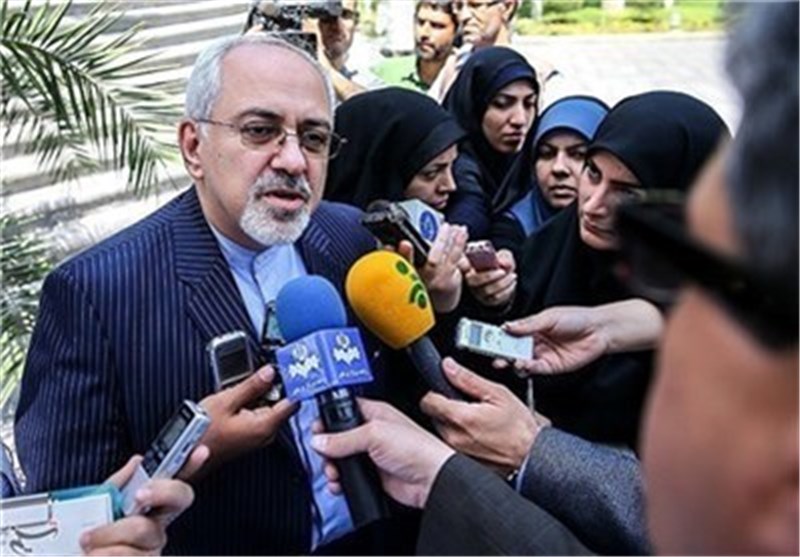 "The point is that not any kind of agreement will have any chance to succeed if it fails to take into account Iran's consent, does not recognize the Iranian people's rights and is not based on mutual respect," Mohammad Javad Zarif told reporters, here in Tehran on Friday.
This comes after US Secretary of State John Kerry said on Thursday that only a "tiny portion" of Iranian assets may be freed under a proposed deal on the country's nuclear program.
In an interview with MSNBC, Kerry said the sanctions regime "does not really get eased" under the deal, and that "95% or more of the current sanctions will remain in place."
Iran and the G5+1 (the five permanent members of the UN Security Council plus Germany) wrapped up three days of intensive talks over Tehran's nuclear program in the Swiss city of Geneva on November 10.
Failing to agree on a deal, the sides have agreed to resume talks on November 20, again in Geneva.
Also in response to US move in blaming the failure of the latest round of Geneva talks on Iran, Zarif once again stressed that it was impossible "to change what happened in Geneva".
One day after conclusion of Iran-G5+1 talks, US Secretary of State John Kerry, who was speaking in Abu Dhabi about why the nuclear talks between Iran and the G5+1 failed to produce resolution, said the six world powers "signed off" on a deal, but Iran was not ready to accept it.
Kerry said the major powers were "unified on Saturday when we presented a proposal to the Iranians, and the French signed off on it, we signed off on it, and everybody agreed it was a fair proposal. There was unity, but Iran couldn't take it at that particular moment, they weren't able to accept that particular thing."
Thereafter, in comment posted on his Twitter page, the Iranian foreign minister called on John Kerry to take the realities into account.
And in a separate reaction on Tuesday, Russia also denied that Iran was to blame for the failure to agree a historic deal on its nuclear program at talks in Geneva, implying the fault was due to disunity among the six world powers.
"The draft joint document suited the Iranian side. But since decisions at negotiations are taken by consensus, it was not possible to make a final deal," a foreign ministry source said in comments carried by all Russia's main news agencies.
"And this was not the fault of the Iranians," it added.
And on Thursday, Russian Foreign Minister Sergey Lavrov said the six major world powers did not draw up any joint document during the latest round of talks with Iran over Tehran's nuclear energy program.
"This time, the P5+1 group (the United States, China, Russia, France and Britain plus Germany) did not formulate any joint document. There was an American-proposed draft. We vigorously supported this draft. If this document had been supported by all (members of the P5+1), it would have already been adopted," Interfax news agency quoted Lavrov as saying at a press conference in the Egyptian capital, Cairo, on Thursday.
The two sides failed to reach a deal over Tehran's nuclear energy program during the Geneva talks, but they said significant progress had been made and expressed optimism about the prospect of achieving a deal in the future talks.