Thousands of Greeks Mark 40th Anniversary of Student Uprising
TEHRAN (Tasnim) – More than 16,000 Greeks marched through the streets of Athens to protest against austerity and mark the 40th anniversary of the student uprising against the former ruling military junta.
November, 18, 2013 - 16:10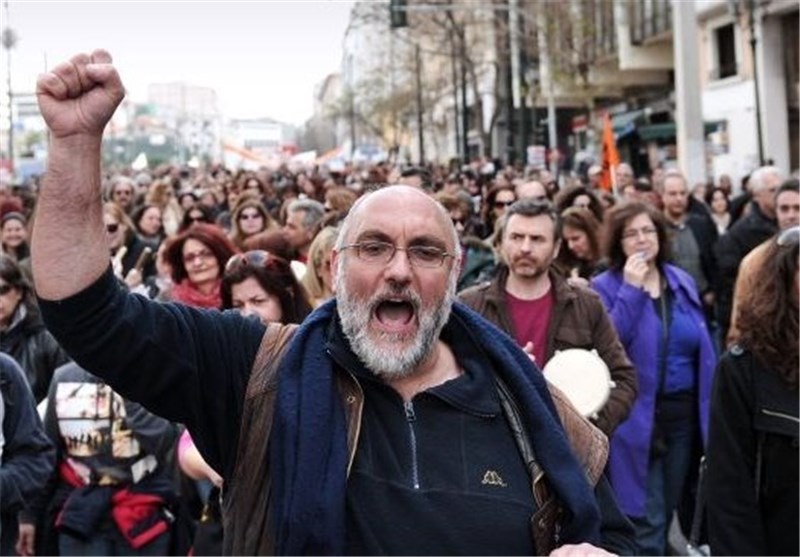 The annual march comes as Greece reels from its sixth year of recession. European Union and International Monetary Fund (IMF) lenders are set to begin a new round of talks to decide whether to throw more money at the southern European nation.
The crowd gathered in front of parliament in Syntagma Square, waving banners which read, "IMF, EU out!," in reference to the bailouts that Greece has received from both bodies in return for harsh austerity measures, RT reported.
The crowd shouted, "Don't bow your heads" and "Never again fascism," in reference to the military rule which took place between 1967 and 1974.
After rallying in Syntagma Square, the thousands of protesters made their way to the US embassy. Many believe the US privately backed the Greek army which rose to power in 1967.
The 1973 Athens Polytechnic uprising protested against the rule of the Greek military junta which ruled from 1967-1974. The junta aimed to control every aspect of politics in Greece. It also forcibly drafted students into the military, thereby creating anti-junta sentiments among students.
The country's bailout has come at a very heavy price for the majority of Greeks. Citizens have experienced tax hikes alongside cuts in their wages and pensions. Unemployment has soared to record levels. Six in 10 young people in Greece are currently out of work, and homelessness is also increasing.