Deputy FM: Zionist Regime behind Explosions near Embassy
November, 20, 2013 - 13:25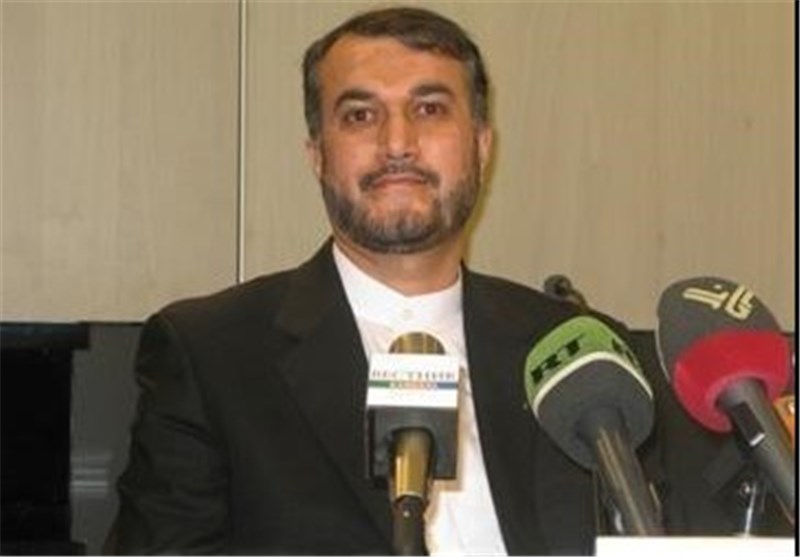 TEHRAN (Tasnim) – An Iranian deputy foreign minister,Hossein Amir Abdollahian, said Tuesday that the Zionist regime of Israel masterminded Tuesday's twin explosions near the Iranian embassy in Beirut that killed about two dozen people, before traveling to Lebanon to survey the situation.
"Israel has taken advantage of some extremist groups to carry out this terrorist act outside the Iranian embassy and there is no doubt about it," said Hossein Amir Abdollahian in an interview with Russia Today Arabic channel.
He added that such moves would not "shake our resolve and that we will continue with our path in supporting the resistance axis."
Following the deadly incidents, Iran's Foreign Minister Mohammad Javad Zarif asked Amir Abdollahian to travel to Beirut to get better information about the event and post-terrorist attack developments.
Amir Abdollahian who arrived in Lebanon on Wednesday will have meetings and talks with concerned Lebanese officials, both about the terrorist attack and about the regional developments.
He will also meet the bereaved families and victims of the terrorist attacks.
In a telephone conversation with Lebanese President Michel Suleiman on Tuesday, Iranian President Hassan Rouhani said those behind the two blasts must be identified and brought to justice soon.
Rouhani added that the attacks were carried out by extremist groups provoked by foreign agents in order to fuel insecurity in the region, particularly in Lebanon.
The Iranian president also condoled with Suleiman and the Lebanese nation over the deaths and injuries of a number of people in the bombings.
Also, Secretary of Iran Supreme National Security Council Ali Shamkhani said on Tuesday the terrorist attacks against Iran's embassy in Beirut will not dissuade Iran from continuing its support for the anti-Israeli resistance front.
"Such actions will have no impact on Iran's continued support for the Islamic resistance current," he said.
On Tuesday morning, twin explosions occurred around Iran's embassy in Beirut, killing at least 23 people and injuring some 150 others. The Iranian cultural attaché was wounded in the blasts but later succumbed to his extensive injuries in a hospital in Beirut.
Abdullah Azzam Brigades, an al-Qaeda-linked group, has claimed responsibility for the twin blasts.
In Beirut, Lebanon's caretaker Prime Minister Najib Mikati, declared a state of mourning in tribute of the fallen victims of the heinous terrorist crime that rattled Beirut's Jnah region on Tuesday.
Secretary General of the United Nations Ban Ki-moon has strongly condemned the "appalling" bombings outside the Iranian Embassy in the Lebanese capital, Beirut, calling for the punishment of those behind the terrorist attacks.
Many countries across the world have condemned the deadly bomb attacks in Beirut.