Leader: Iran Will Not Back Down from Nuclear Rights
TEHRAN (Tasnim) - Supreme Leader of the Islamic Revolution Ayatollah Seyed Ali Khamenei insisted that the Iranian nation's nuclear rights should be respected in the talks between Tehran and the six major world powers, asking the country's nuclear negotiators to observe the red lines.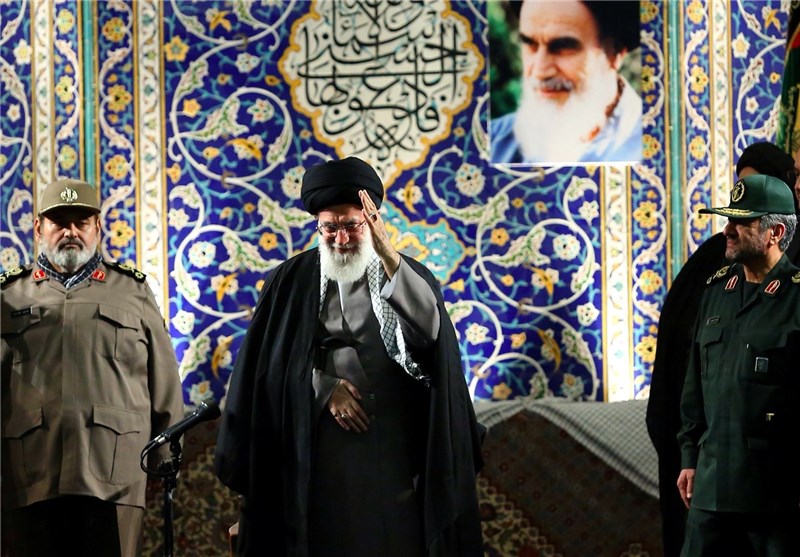 Addressing a huge crowd of Basij (volunteer) Force commanders and personnel here in Tehran on Wednesday, the Leader voiced support for the Iranian nuclear negotiators engaged in talks with the major world powers, but stressed that the country's rights, including the Iranian nation's nuclear rights, should be recognized and respected in the talks.
His comments come before the beginning of a fresh round of nuclear talks between Iran and the Group 5+1 (the five permanent members of the UN Security Council plus Germany) in the Swiss city of Geneva.
The Leader also insisted that the Iranian negotiators should not retreat "a single step" from the nation's rights during the negotiations.
Ayatollah Khamenei, however, noted that he would not get involved in the details of the forthcoming talks, but added that there are red lines and restrictions that the diplomats should take into account.
Pointing to some misconceptions over the concept of heroic flexibility, the Leader redefined it as an "artistic maneuver" aimed at achieving the objectives, saying it does not mean giving up the ideals of the Islamic establishment.
Ayatollah Khamenei said a number of enemies used this as a pretext to accuse the Islamic system of backtracking on its principles which is untrue and a misunderstanding.
The Supreme Leader further pointed to the sanctions imposed against Iran by the adversaries, saying that the US officials know that sanctions against Iran are ineffectual.
The Leader said the enemies' mistake is "they have not learned from their past mistakes" that they cannot bring the Iranian nation to its knees through pressure and sanctions.
Ayatollah Khamenei then lashed out at Israel for making allegations against the Islamic Republic, saying the false accusations that Iran poses a threat to the world are just the "words of enemies" that are spread by the Iranian nation's adversaries, including the "rabid dog of the region, namely the Zionist regime" of Israel.

"The threats to the entire world are those evil and trouble-making forces that did nothing but villainy, including the fake regime of Israel and some of its supporters," the Leader added.
Israel which has the Middle East's only nuclear arsenal and is said to be in possession of up to 400 nuclear warheads and bombs is trying to project Iran's peaceful nuclear program as the main threat to regional security and is lobbying hard to dissuade the world powers from reaching an accord with Iran.