Araqchi: Negotiators to Discuss Content Tomorrow
TEHRAN (Tasnim) – Abbas Araqchi, Iran's deputy foreign minister and one of the country's top nuclear negotiators said the Wednesday evening's meeting between Tehran and the Group 5+1 would only revolve around the trend of talks, and negotiators will likely start talking about content tomorrow.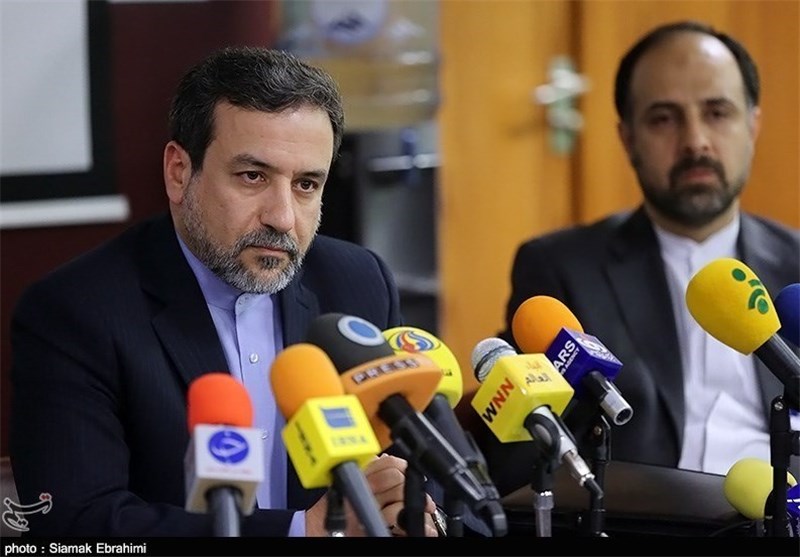 "During the evening talks, we will discuss the process of negotiations, and if we achieve good results, the talks on the document will probably begin tomorrow," the Iranian senior diplomat told reporters on Wednesday.
He made the remarks after taking part in a meeting that brought together Iran's top nuclear negotiator, Mohammad Javad Zarif, and the EU foreign policy chief, Catherine Ashton, who represents the six world powers in talks with Iran, in the Swiss city of Geneva.
During the meeting, which started at 14:30 local time, Zarif and Ashton reviewed the scheduled programs for the negotiations and set the framework for the upcoming meetings.
The meeting was attended by the Iranian nuclear negotiators and Helga Maria Schmid, deputy to Catherine Ashton.
"We a nd G5+1 have not had any discussion about the content so far. A series of principles and negotiating procedures should be resumed and the lost trust should be revived," Araqchi explained.
Araqchi also held a bilateral meeting with Chinese Deputy Foreign Minister Li Baodong before the start of first session of talks between Iran and the G5+1.
During the previous round of talks between Tehran and the six major world powers earlier this month, the two sides managed to narrow their differences on Iran's peaceful nuclear program, though there were hitches that stopped them from reaching an interim deal at the end of the talks.
In remarks ahead of the new round of nuclear negotiations, Iranian President Hassan Rouhani said on Monday that the latest round of talks had made good progress, but added that unjustified demands could obstruct the path to a win-win agreement on Iran's nuclear program.

"Good progress had been made in the recent talks (between Iran and the G5+1), but everybody should notice that excessive demands could complicate the process towards a win-win agreement," Rouhani said in telephone conversation with Russia's President Vladimir Putin on November 18.