Indonesians Burn Australian Flags over Spying Reports
TEHRAN (Tasnim) - Indonesians burned Australian flags on Thursday over reports that Australia's spies tried to tap the phones of President Susilo Bambang Yudhoyono and his wife, as relations between the neighbors plunged to their lowest point since the late 1990s.
November, 21, 2013 - 14:08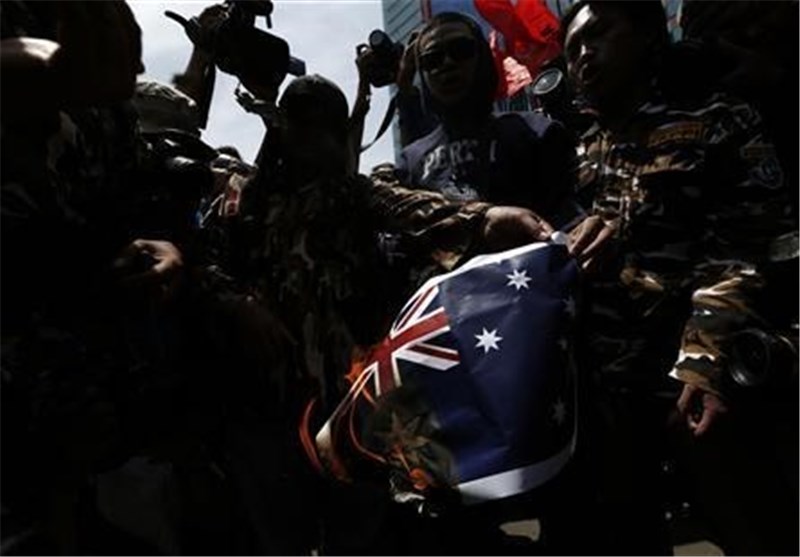 About 200 people marched to the heavily fortified Australian embassy in Jakarta to demand an apology over the alleged spying, which prompted Yudhoyono to downgrade diplomatic relations with Canberra on Wednesday.
Other protesters in the Central Javanese city of Yogyakarta burned Australian flags in a show of anger, but the demonstrations were peaceful and smaller than police had expected.
Australia earlier updated its travel advisory for Indonesia, the country's second most popular tourist destination after New Zealand, urging citizens in the Southeast Asian archipelago to avoid protests and "maintain high levels of vigilance".
Yudhoyono went on national television on Wednesday to announce that he was freezing military and intelligence cooperation, including over the issue of asylum seekers, that has long been an irritant in relations.
The reports that sparked the Indonesian outrage quoted documents leaked by former US National Security Agency contractor Edward Snowden, suggesting Australia had tried to monitor the phones of top Indonesian officials in 2009.
Indonesia's Coordinating Minister for Economic Affairs Hatta Rajasa told Reuters there had been little economic impact from the row.
Relations between Australia and Indonesia hit a nadir in 1999 when Australia sent troops into East Timor to restore peace and subdue Jakarta-backed militias after Indonesia's military pulled out of the former colony.
Ties with Jakarta have improved significantly since the two countries were drawn together in response to the 2002 bombings on the Indonesian holiday island of Bali, which killed more than 200 people including 88 Australians.