Student Killed in Cairo Al-Azhar University Protests
TEHRAN (Tasnim) - A student from Al-Azhar University in Cairo was shot dead in clashes erupted in the late hours of Wednesday between supporters of the ousted president Mohamed Mursi and the security forces, head of the Ambulance Authority said.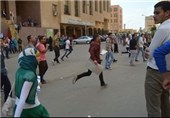 The student, enrolled in the faculty of medicine, was hit in the head by birdshot during the clashes, Ahmed el-Ansari told Xinhua.
Pro-Muslim Brotherhood students, who attempted to storm the Al-Azhar headquarters earlier in the day, sparked riots Wednesday night at the male student hostel, which is nearby the Rabaa al- Adawiya mosque, the main camp of Mursi's supporters in eastern Cairo's Nasr City, which was cleared out by the security forces in mid-August.
Security forces stormed into the university after they were called by the University chairman Ousamah el-Aabd to control the protesters who set fire to trees inside the campus, official news agency MENA reported.
The students said they burnt the trees to avoid the tear gas fired heavily by the police to avoid suffocation, state-run Nile TV reported on Thursday.
Since the beginning of Al-Azhar academic year, the students launch protests on daily base, dozens of male and female students were arrested and some faced disciplinary board, and possible dismissal from the university.
The Wednesday protests demanded the release of their colleagues.
Security forces succeeded to disperse hundreds of pro- Brotherhood students from Al-Azhar University before they storm the Al-Azhar headquarters earlier Wednesday, MENA added the arrested students included one Turkish national.
El-Aabd announced Wednesday that the protests are completely prohibited inside the campus of the university and security forces are allowed to maintain the security of students, after the police was prohibited to enter the universities after 2011 upheaval upon a court decision.