Iranian Team, EU's Ashton Discuss Details: Araqchi
TEHRAN (Tasnim) - Abbas Araqchi, Iran's deputy foreign minister and one of the country's top nuclear negotiators, said in the just-concluded meeting between EU foreign policy chief Catherine Ashton and the Iranian team, the sides discussed the content but not the text of the draft agreement.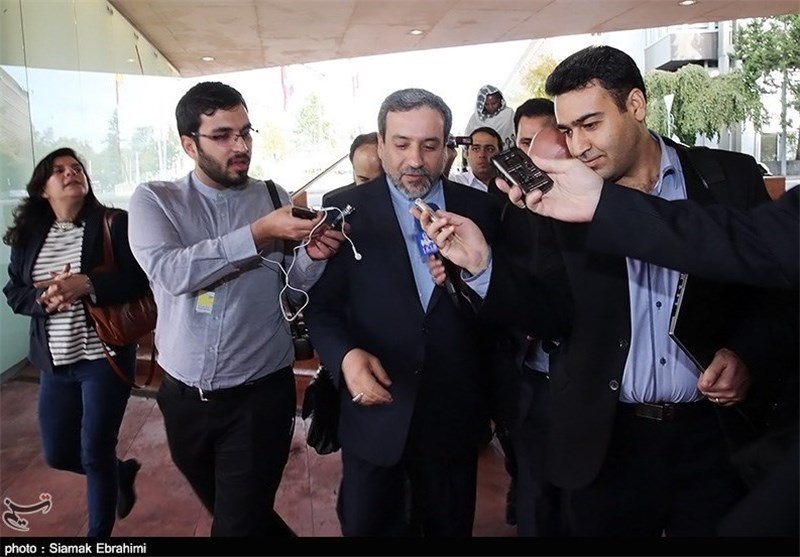 "We had almost three hours of intensive discussion with Ashton, and for the first time since yesterday, we entered the content, but gradually, and we did not enter the text," the Iranian senior diplomat told reporters on Thursday.
He also noted that a "positive" atmosphere prevails in the negotiations, adding that a possible deal is within reach.
Araqchi earlier called Iran's demand to be allowed to continue enriching uranium a "red line" and said that the first stage of the talks would be about reducing the international sanctions on Iran's oil trade and banking system.
Meanwhile, Iran's Foreign Minister Mohammad Javad Zarif, also the country's top negotiator in the nuclear talks, told reporters after the Thursday meeting with Ashton that Iran "entered the details of issues... but of course there are differences of opinion."
In relevant remarks, Catherine Ashton's spokesman, Michael Mann, described the talks as substantial and detailed, adding that the two got down to detailed work and that they will resume talks at 14:30 Geneva time.
On Wednesday, a senior American administration official said in Geneva that the draft agreement was still the basis for the talks taking place this week.
Iran and the G5+1 had a brief and introductory plenary session on Wednesday, focusing mainly on the process of the negotiations.
The negotiating sides agreed to resume the nuclear talks in bilateral meetings between different delegations, at the level of deputy chief negotiators.
The first day of talks also saw the Iranian team hold separate bilateral meetings with delegations representing Russia, the US, and the three European members of the G5+1.
During the previous round of talks, the two sides managed to narrow their differences on Iran's peaceful nuclear program, though there were hitches that stopped them from reaching an interim deal at the end of the talks.