Zarif-Ashton Meeting Marks Start of 3rd Day of Geneva Talks
TEHRAN (Tasnim) – Intensive negotiations between Iran and the six major world powers over Tehran's nuclear program entered its third day in Geneva as top negotiators representing the two sides started another bilateral meeting, minutes ago.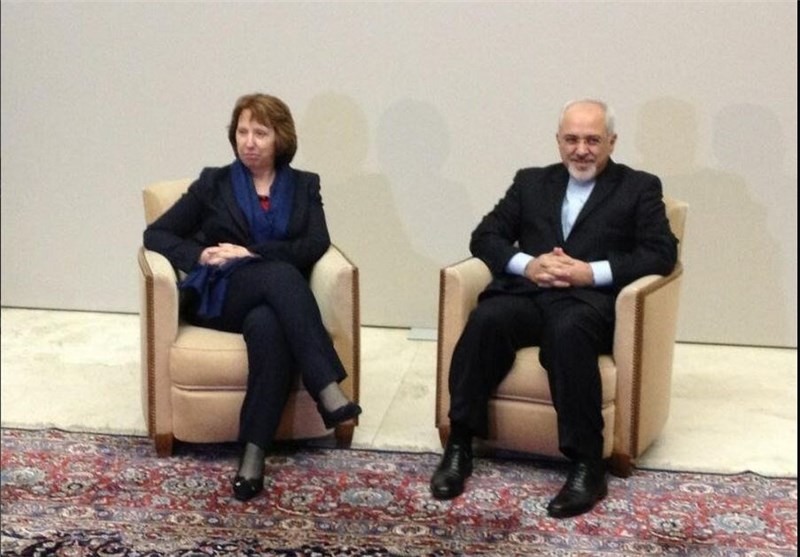 Iranian Foreign Minister Mohammad Javad Zarif and EU foreign policy chief Catherine Ashton held a meeting at the Swiss city of Geneva's Intercontinental Hotel at 9 am local time (11:30 Tehran time).
The two high-ranking officials have held several sessions of meetings over the past two days, with the aim of reaching an agreement to help end the 10-year standoff over Iran's peaceful nuclear activities.
Foreign Minister Zarif is also Iran's top negotiator in the nuclear talks and Catherine Ashton oversees diplomacy with Iran on behalf of the Group 5+1 (the five permanent UN Security Council members plus Germany).
The fresh meeting comes while Zarif and Ashton were expected to hold a one-to-one gathering on Thursday night, but it was postponed after an internal meeting among representatives of the Group 5+1 (also known as P5+1 or E3+3) lasted longer than expected.
According to reports, the negotiating sides have agreed that multilateral meetings would not begin unless an initial agreement between Iran and Ashton, as the representative of the six countries, is finalized.
In the meantime, Michael Mann, the spokesman of EU foreign policy chief, said in his Twitter page on Thursday evening that representatives of Iran and the six major world powers wrapped up a day of "intense, substantial and detailed negotiations" on Thursday.
He also noted that the negotiations over the past two days have been held in "good atmosphere".
However, Iran's deputy foreign minister and top negotiator, Abbas Araqchi, told reporters on Thursday night that not any progress has been achieved in the talks so far.
He also noted that representatives of the G5+1 members are going to hold consultations with the capitals of their respective countries to coordinate the issues.
This is the second time in a month that the Swiss city of Geneva is hosting representatives from Iran and the group of six major world powers. They had three days of intensive talks on November 7-9.
During the previous round of talks, the two sides managed to narrow their differences on Iran's peaceful nuclear program, though there were hitches that stopped them from reaching an interim deal at the end of the talks.