Afghanistan Rejects Quick Security Deal with US
November, 23, 2013 - 13:15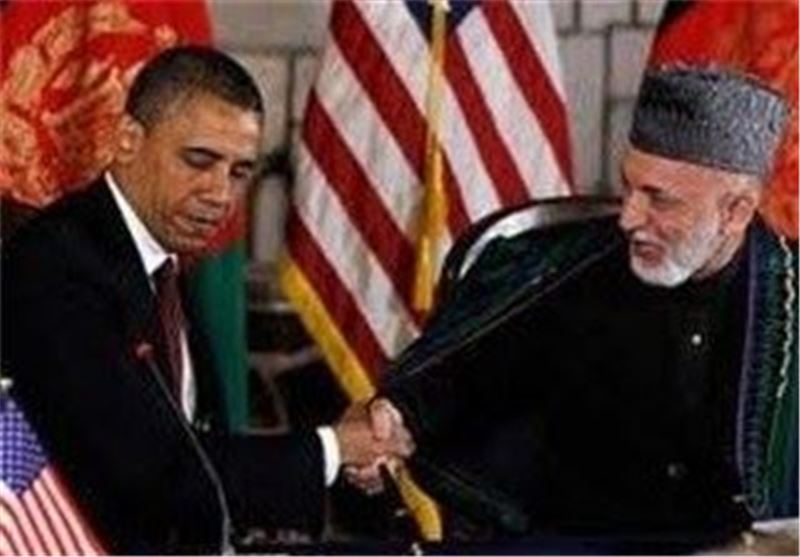 TEHRAN (Tasnim) - The future of US troops in Afghanistan remained in doubt after a spokesman for President Hamid Karzai rejected Washington's call to sign a security pact by the end of the year rather than after next year's presidential election.
The United States has repeatedly said it will not wait until after the April 2014 vote to seal the Bilateral Security Agreement (BSA) and rejected Karzai's suggestion for the signing to take place next year "properly and with dignity".
Without an accord, the United States could pull out most of its troops by the end of 2014, as it did two years ago when it failed to negotiate a deal with Iraq, Reuters reported.
"We do not recognize any deadline from the US side," said Aimal Faizi, a spokesman for Karzai, as Afghan tribal elders considered the pact for a second day. "They have set other deadlines also, so this is nothing new to us."
Karzai had suggested on Thursday, as the Afghan leaders began a meeting known as a Loya Jirga, that the signing of the pact should wait until after the poll. Having served two terms, he is ineligible to run again.
In Washington, the White House kept up the pressure on Karzai, saying President Barack Obama wanted the BSA signed by the end of the year. Obama would decide about a further US presence after Afghan authorities approved the deal, US officials say.
"It is our final offer," said White House spokesman Jay Carney. "We can't push it into next year and be expected to plan for a post-2014 military presence," he told reporters.
In a telephone call earlier on Friday, US Secretary of State John Kerry conveyed to Karzai that any delays were unacceptable and signing the agreement as quickly as possible was imperative, State Department spokeswoman Jen Psaki said.
"I can also confirm for you that the secretary communicated it to President Karzai this morning on a phone call as well," Psaki told a briefing.
US Defense Secretary Chuck Hagel said the United States needed to ensure there would be protection for US forces if they stayed in Afghanistan beyond next year.