Chinese Oil Explosion Kills Dozens
TEHRAN (Tasnim) - Chinese industrial safety is again in the spotlight after an explosion in the east of the country killed at least 44 people and contaminated seawater.
November, 23, 2013 - 12:42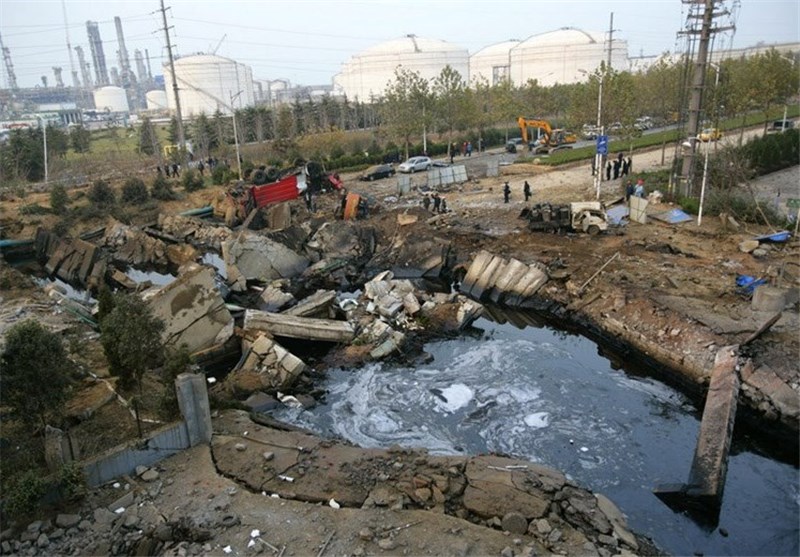 Leaked oil from a ruptured pipeline ignited as workers cleaned up the spill, local authorities said, shattering roads, flinging bodies across streets and shutting down a key port.
The pipeline, owned by Sinopec, China's largest oil refiner, was leaking onto a city street in Qingdao, Shangdong province, and into the sea for about 15 minutes before it was shut off on Friday.
Hours later, at 10:30am (0230GMT), the leaked oil caught fire and exploded in two locations.
One blast went off at a major road junction in Qindao, formerly known as Tsingtao, and photos posted online showed shattered concrete slabs and human bodies scattered across the street, Al Jazeera reported.
Black smoke rose above gigantic fuel silos and darkened much of the sky. At least 136 people were admitted to hospital following the explosion.
It was China's second deadliest industrial accident this year, after 121 people were killed in a chicken factory fire in June in the north-eastern city of Jilin.
"(We) are deeply grieved, we express our deep condolences for the dead, our support to their families ... and our apologies to the whole country," Fu Chengyu, Sinopec chairman, said.
"(We will) find out the accident's causes as soon as possible and give a reasonable explanation to everyone."
Contaminated sea surface
The Qingdao Environmental Protection Bureau said barriers had been set up to contain the oil as it spread into the sea, but that a mixture of gas and oil from a storm sewer exploded and caught fire over the sea.
The oil had seeped into underground utility pipes, which could have been a factor in the blasts, said officials.
More than 32,000sq ft of sea surface had become contaminated, the city government said.