Brahimi, Russia's Lavrov Meet in Geneva
TEHRAN (Tasnim) – Russian Foreign Minister Sergei Lavrov, now in Geneva to attend the ongoing negotiations over Tehran's nuclear program, had a meeting with UN-Arab League Special Envoy on Syria Lakhdar Brahimi on Saturday to exchange views on a solution to the Syrian crisis.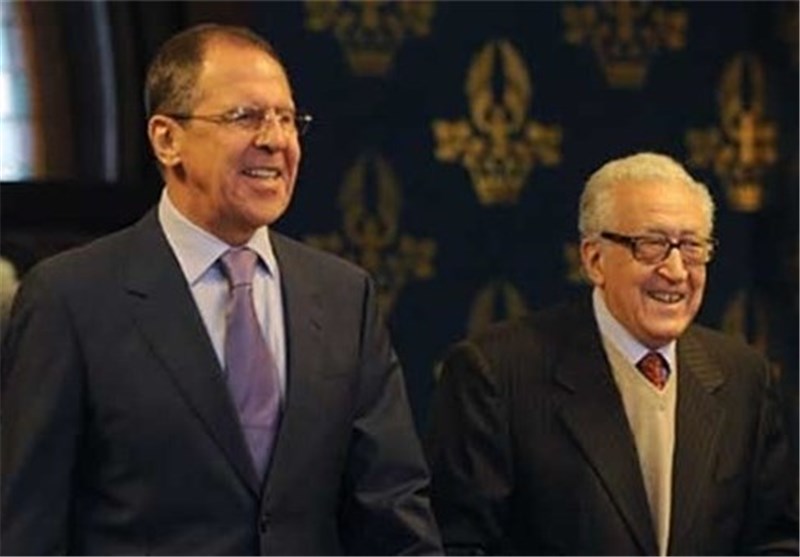 Lavrov arrived in the Swiss city of Geneva on Friday afternoon for talks with his Iranian counterpart, Mohammed Javad Zarif, while a breakthrough in the dispute over Tehran's peaceful nuclear program seems to be closer at hand than at any other time in the past decade.
The bilateral meeting between Lavrov and Brahimi was aimed at seeking a political solution to the crisis in Syria.
Brahimi has been pushing for months to prepare the ground for a gathering known as Geneva 2 conference in order to bring Syrian warring sides and key infulential players to the negotiating table to chart a way out of the crisis for that country.
Attempts to set up a conference have been going on for months amid disputes over who should attend and what should be included on its agenda.
Many Syrian rebel groups have refused to come to the negotiating table unless President Bashar al-Assad stepped down.
The upcoming peace conference on the Syrian crisis was initially due to take place in Geneva on November 23-24.
The idea of a conference was first mooted in May, and in September UN Secretary General Ban Ki-moon announced a tentative date of mid-November after the Security Council passed a binding resolution on Syrian chemical weapons.
The UN says more than 100,000 people have been killed since the unrest began in 2011. More than 2.2 million Syrians have fled to neighboring countries while an estimated 4.25 million have been displaced internally.