Support for Syria Central Plank of Iran Policy, Says Vice President
TEHRAN (Tasnim) – As the Syrian government has weathered nearly three years of fight against foreign-backed rebels and terrorist groups, Iran's first vice-president once again reiterated Tehran's support for the Arab country, saying the sustained policy is a tenet of Iran's foreign policy.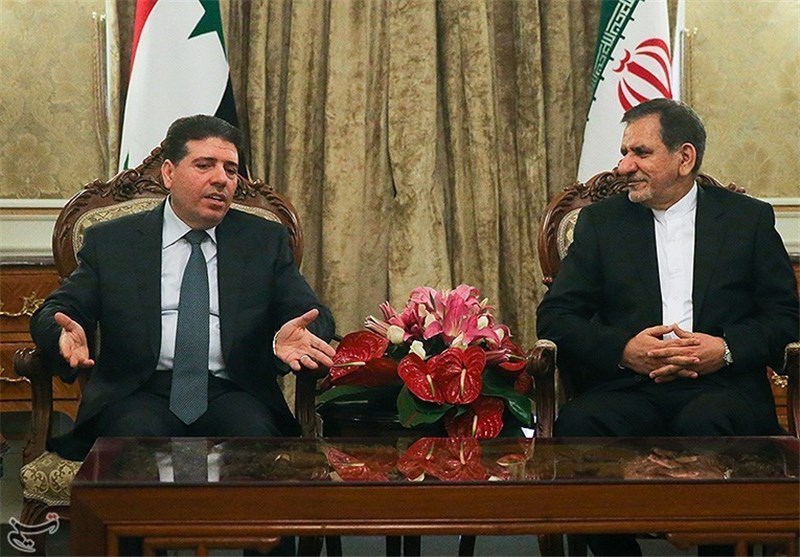 This comes as in recent weeks the Syrian army has made major achievements in the fight against rebels and extremist groups and managed to retake some strategic towns and areas from the armed opponents.
Iran, one of Syria's major supporters, believes that intervention of foreign governments has only worsened the crisis and that arming the rebels further inflames the tensions, and has called on all Syrian sides to sit together to find a negotiated settlement for a conflict that can rip apart the social and economic fabric of the Syrian society.
According to Iran's First Vice-President Eshaq Jahangiri, Tehran, as an issue of principle, will be on the side of the Syrian nation and government in the face of terrorist attacks and foreign pressure.
"Supporting the Syrian nation against the terrorists and foreign pressures is Iran's main policy," he said, but emphasized that the protracted crisis in Syria could only be resolved through dialogue and consensus - something the regional and countries and global powers have gradually realized.
"Iran is opposed to contrived democracy, because the Syrian people must determine their own fate and no one can tell them who should rule in their country, or who is eligible to run for elections," said jahangiri in his meeting with Syrian prime Minister Wael al-Halqi in Tehran.
Jahangiri said that the Syrian President Bashar al-Assad's decision to get rid of the country's chemical weapons and their manufacturing facilities was a wise move that helped avert an imminent war.
He also lashed out at some regional and western countries that provide arms and funds for extremist groups in Syria, saying such moves rob Syrian people of peace and calm and pose great threats to the whole region and the Islamic world.
The Syrian prime minister for his part congratulated Iran on the nuclear deal with six world powers, arguing that the resulting security for Tehran could add to peace and stability in the region.
Wael al-Halqi also said that Damascus hopes Iran would play a major role in the reconstruction of the country when the war comes to a close in Syria.
Iranian president Hassan Rouhani in in his November 27 telephone conversation with his Syrian counterpart once again stressed Tehran's support for the Syrian nation and peaceful solution to the crisis in the Arab country.
The terrorist activities carried out by foreign-sponsored militants and Takfiri extremists in Syria are threats not only for the Syrian nation, but also for the whole region and the international peace and stability, Rouhani underlined.
"There is no military solution to the crisis in Syria, and restoration of stability and peace in the friend country of Syria is one of the objectives pursued by the Islamic Republic of Iran," Rouhani said.
The UN says more than 100,000 people have been killed since the unrest began in 2011. More than 2.2 million Syrians have fled to neighboring countries while an estimated 4.25 million have been displaced internally.
Over half of 2.2 million Syrian refugees are children, the UN says, with many facing grave dangers even outside the war zone.
And after months of delay and amid hopes for a political solution to the conflict , a much anticipated Geneva II conference is scheduled to begin on January 22 in Geneva.