Fresh Protests in Kiev as Opposition Calls For Elections
December, 01, 2013 - 12:19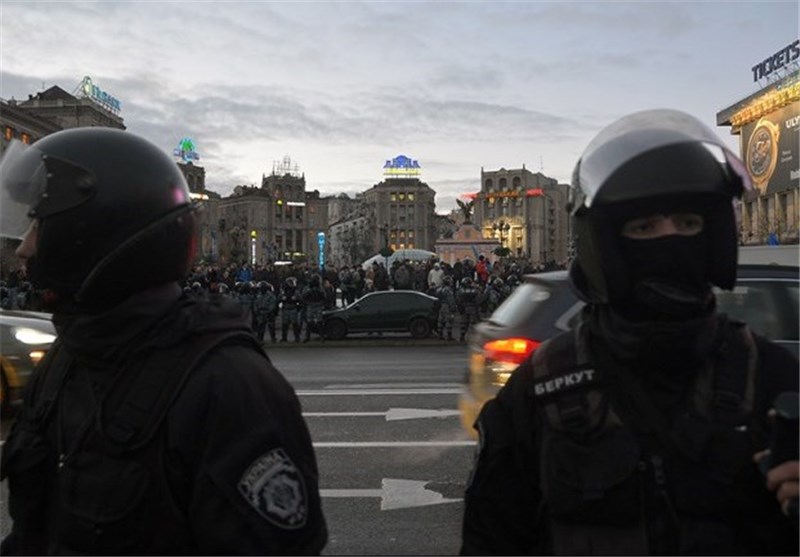 TEHRAN (Tasnim) – Around 10,000 anti-government protesters gathered outside a monastery in Kiev where demonstrators had earlier taken shelter after violent clashes with police. Opposition leaders have called for fresh elections and a national strike.
The renewed protests came as opposition leaders, angered by President Viktor Yanukovich's refusal to sign a pro-European Union agreement, called for early elections and a nationwide strike, AFP reported.
Early Saturday, officers in riot gear moved against several hundred protesters still camped at Kiev's main Independence Square following bigger demonstrations on Friday night in the city center, beating some with truncheons.
TV footage showed police beating one young woman on the legs and kicking young men on the ground. Several people were given emergency treatment on the spot for cuts to the head.
The Interior Ministry said the riot police moved in "after the protesters began to resist the (ordinary uniformed) police, throwing trash, glasses, bottles of water and flares at them".
Fleeing the clashes, some protesters went to the St Michael's Golden-Domed Monastery about 500 meters away to take shelter in its cathedral.
By Saturday afternoon, around 10,000 demonstrators had gathered on the square outside the monastery, shouting chants of "shame" and "resign".
Opposition leaders, who late on Friday had urged protesters to continue campaigning for a European future for the ex-Soviet republic, condemned the police crackdown and said it would call a country-wide strike.