IRGC Commander: Iran to Annul N. Deal if West Reneges on Commitments
TEHRAN (Tasnim) – Commander of the Islamic Revolution Guards Corps (IRGC) called on the country's authorities to nullify the recent accord over Tehran's nuclear program if western countries, particularly the US, start to renege on the deal.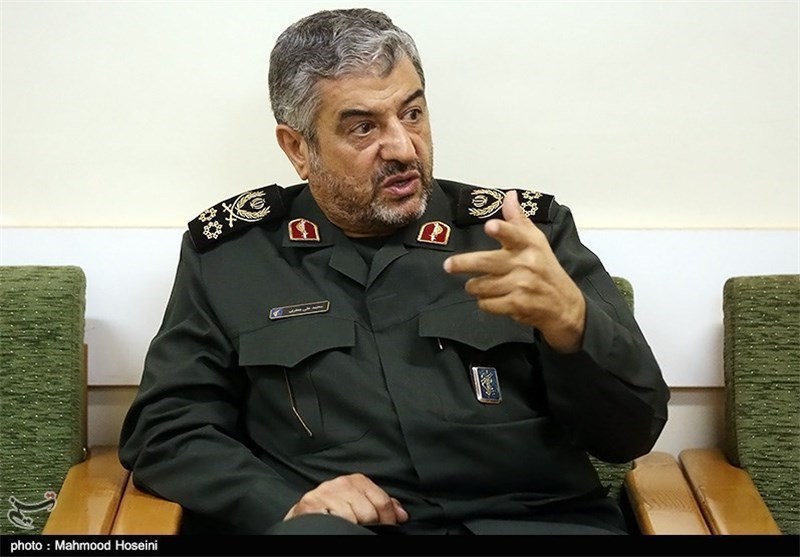 "The (Iranian) officials should strongly consider the (Geneva) deal as null and void if they see any violation (of the deal), lack of commitment or trampling on the inalienable nuclear rights of our country, and the abuse of the agreement and personal interpretation (of the deal) by the West and the US," Major General Mohammad Ali Jafari said in an exclusive interview with the Tasnim News Agency on Monday.
Iran and the G5+1 (also known as P5+1 or E3+3) signed a six-month deal on Tehran's nuclear program after three rounds of intensive talks in the Swiss city of Geneva on November 24.
The deal is intended to allow time to negotiate a comprehensive agreement on the nuclear program.
In exchange for Iran agreeing to limit certain aspects of its nuclear activities and allow more inspection of its nuclear facilities, the six world powers have agreed to impose no new sanctions on Iran and to suspend some existing ones on its trade in petrochemicals, automobiles, gold and precious metals, civil aviation parts, and food and medicine. They will also let Tehran receive a small portion of its frozen assets while a permanent agreement is sought.
Major General Jafari also emphasized the need for diplomatic vigilance in dealing with the country's nuclear case, and warned that the interval between the first and the final step –in the plan outlined by the team of nuclear negotiators— could both serve the country's interests and be detrimental to them.
The top commander further deplored the US president's repeated rhetoric of "military option against Iran is on the table" as "ludicrous" and said, "Repetition of such an absurd sentence by the officials of the US and the fake and evil Zionist regime (of Israel) sounds funny to the Iranian nation."
Last week, the White House insisted that military option to strike against Iran is still on the table if Tehran failed to keep its side of the nuclear bargain.
The IRGC commander went on to say that the US or Israeli officials are totally incapable of taking any military action against Iran, but at the same time affirmed that any "stupid measure" by the enemies would compel Iran to consider the options it has on the table.
"Lots of options are on the table for Iran, and they (enemies) will receive crushing responses, one of which would be elimination of the Zionist regime," he warned.