Iran, UAE on Path for Boosting Cordial Ties, Cooperation
TEHRAN (Tasnim) – Iranian Foreign Minister said on Wednesday in a meeting with Emirati president that his country attaches great significance to its bilateral relations with the United Arab Emirates, as they serve the interests of the two nations, and peace and stability in the region.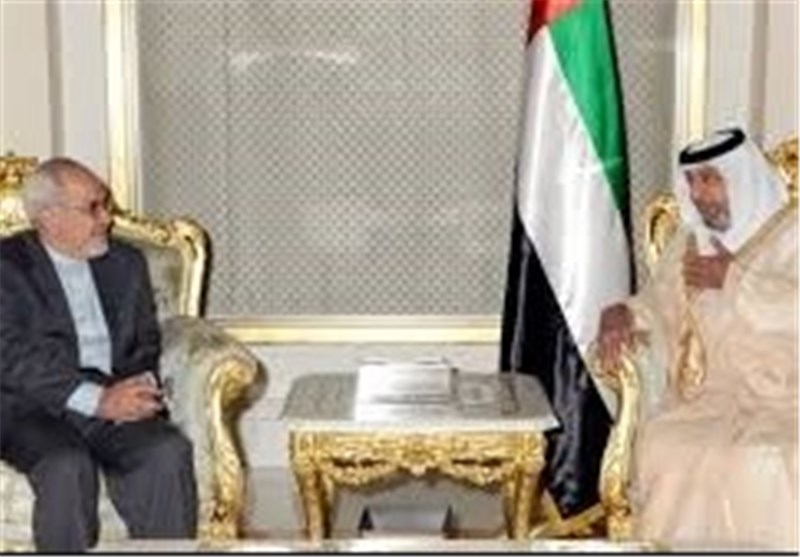 Iranian Foreign Minister Mohammad Javad Zarif met with Emirati President Khalifa bin Zayed bin Sultan Al Nahyan in Abu Dhabi, where they discussed grounds for the expansion of Tehran-Abu Dhabi relations.
"The Islamic Republic of Iran has always taken steps in line with the welfare and interests of regional countries and emphasizes the establishment of peace, stability and balance (in the region)," Zarif noted.
Emirati President Khalifa bin Zayed bin Sultan Al Nahyan for his part expressed Abu Dhabi's readiness to bolster cooperation with Tehran in all areas.
He also underlined the need for regular meetings between Iranian and Emirati officials to boost relations between the two neighboring countries at bilateral, regional and international levels.
The Emirati government has instructed all officials and state organs to spare no effort to broaden Tehran-Abu Dhabi ties, said President Khalifa bin Zayed.
The Emirati leader also stressed his country's support for the nuclear deal signed between Iran and six world powers in Genva on November 24, saying his nation looks forward to enhancing regional stability and security and that he hopes for more cooperation between the two Islamic countries.
UAE was one of the first countries in the region to welcome last month's nuclear deal between Iran and world powers, and sent its foreign minister to Tehran last week.
Zarif also extended an invitation for Khalifa to visit Iran, which was "thankfully accepted" by the UAE ruler.
Iran's top diplomat also had a meeting with In a meeting with Prime Minister and Vice President of the United Arab Emirates (UAE) Sheikh Mohammed bin Rashid Al Maktoum in Abu Dhabi on Wednesday.
The Iranian foreign minister said the two countries must use their existing potentials to boost economic activities and joint investment.
The UAE prime minister said his country expects a bright future for the expansion of ties with the Islamic Republic of Iran, expressing optimism that the two countries can increase the current level of their mutual trade.
"We have faced common threats and pressures, but have long stated that we have peaceful co-existence with Iran," he added.
In late November, the Emirati foreign minister, Sheikh Abdullah bin Zayed, paid an official visit to Tehran, where he met with Iranian President Hassan Rouhani as well as his opposite number.
During his meeting with Sheikh Al Nahyan, President Rouhani hailed brotherly Tehran-Abu Dhabi ties and said "no external factors" can harm the "friendship" between the two nations.