Supreme Leader: No Obstacle in Way of Broader Ties with Iraq
TEHRAN (Tasnim) – Supreme Leader of the Islamic Revolution, who received visiting Iraqi Prime Minister Nouri al-Maleki on Thursday, said there is no obstacle in the way of improving relations with neighboring Iraq.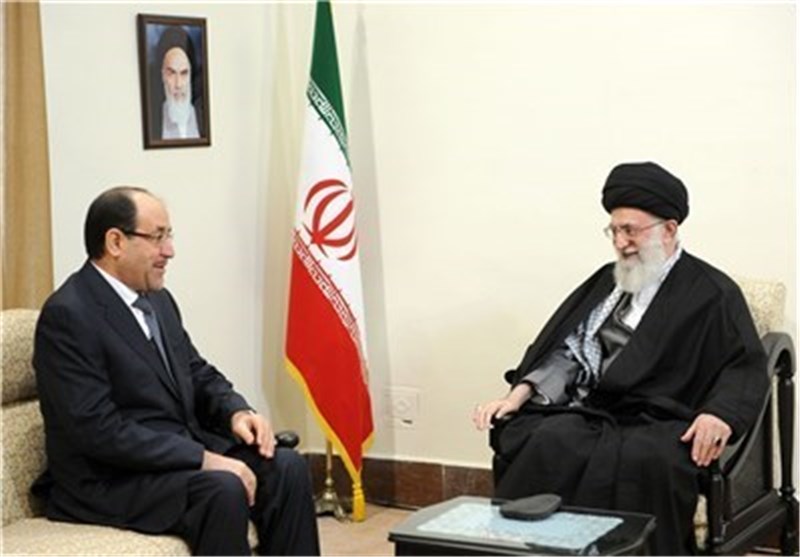 "The field for increasing cooperation in various areas is very broad and there is no obstacle in the way of improving relations with Iraq and developing regional cooperation" said Ayatollah Seyed Ali Khamenei in the Thursday morning meeting.
The Supreme Leader confirmed Maliki's comments on consolidating economic, political, and scientific relations between the two countries, saying: "In recent year Iran has had remarkable scientific growth and transferring such experiences to Iraq could be an important area for bilateral cooperation."
He also evaluated the performance of the Iraqi government as positive, saying, "The steps you are taking for your country are valuable, but of course Iraq's needs are far greater."
The Supreme Leader also praised Iraqi President Jalal Talabani as a good and intimate friend of the Islamic Republic, wishing him health and fast recovery.
On December 18, 2012, Talabani suffered a stroke and was in intensive care in Baghdad where his condition eventually stabilized after reports that he was in a coma. He has been undergoing treatment in Germany since then, and is making progress.
The Iraqi prime minister expressed hope that the agreements reached and the talks he has had in this visit would lead to further expansion of bilateral ties.
Maleki arrived in Tehran on Wednesday to discuss with Iranian senior officials about bilateral ties as well as regional and international developments.
This is Maliki's first visit to Iran after Rouhani's victory in the June 14 presidential election. The Iraqi premier was to visit Tehran in August shortly after Rouhani's inauguration, but later postponed his trip.
Security of Iraq matters to Iran doubly as every year hundreds of thousands of Iranians go to Iraq for pilgrimage. In early June at least 14 Iranian pilgrims were killed in a terrorist blast in the town of Muqdadiyah, 80km northeast of Baghdad.
The two countries also enjoy good trade ties. According to a recently published report, Iran exported $3.577 billion worth of commodities to Iraq in the last seven months of 2013, making it the biggest market for Iran's non-oil exports.