US to Maintain 35,000 Troops in Persian Gulf Region
TEHRAN (Tasnim) – The United States is committed to maintaining a 35,000-strong force in the Persian Gulf region regardless of a nuclear deal with Iran, Pentagon chief Chuck Hagel said Saturday in Bahrain.
December, 07, 2013 - 15:52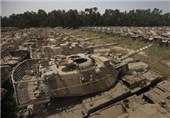 The United States has an armada of ships and aircraft in place and "will not make any adjustments to its forces in the region -- or to its military planning-- as a result of the interim agreement with Iran," said Hagel, according to a prepared text of a speech.
In a trip meant to reassure Persian Gulf Arab allies worried about America's diplomatic opening with Iran, Hagel enumerated a list of US weaponry and resources that will remain deployed in the region.
"We have a ground, air, and naval presence of more than 35,000 military personnel in and immediately around the Persian Gulf," he said, according to the text released in advance of his speech in Manama, AFP reported.
The military footprint includes 10,000 US Army troops with tanks and Apache helicopters, roughly 40 ships at sea including an aircraft carrier battle group, missile defense systems, advanced radar, surveillance drones and warplanes that can strike at short notice, he said.
"We have deployed our most advanced fighter aircraft throughout the region, including F-22s, to ensure that we can quickly respond to contingencies," Hagel said.
Speaking at an annual security conference in Manama organized by the International Institute for Strategic Studies, Hagel also noted investments in minesweeper ships and a $580 million construction project for the US Fifth Fleet headquarters, the naval command in Bahrain that oversees vessels across the Middle East.