Ukrainians Rally as Opposition Seeks Million on Streets
December, 08, 2013 - 18:32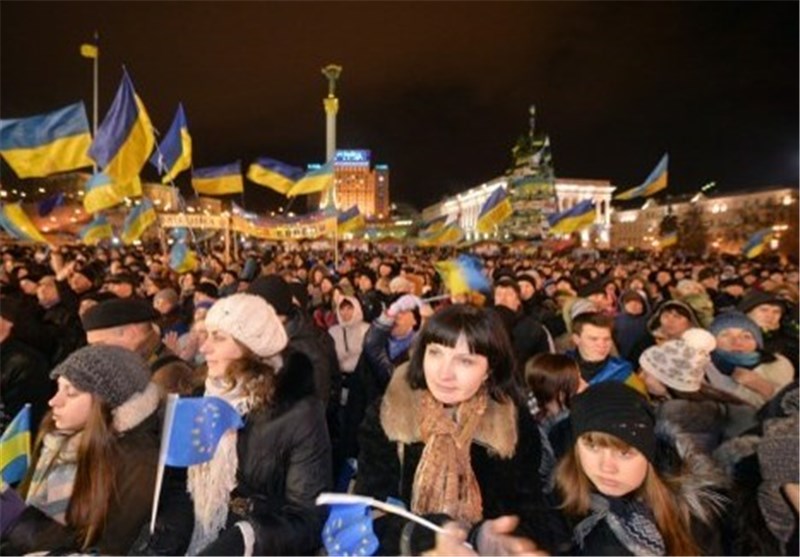 TEHRAN (Tasnim) - Ukrainians rallied today as the opposition seeks to bring 1 million people onto the streets to crank up the pressure on President Viktor Yanukovych after his U-turn away from a European integration accord.
Anti-government activists met at noon in Kiev in a bid to top the half-million people who flooded the city last weekend, when protests were marred by clashes with baton-wielding riot police that have fueled further demonstrations.
Protesters have been camped at Independence Square, which is blockaded with scrap wood, metal and barbed wire, and are picketing official buildings to demand snap elections and state accountability after 400 people were injured in violence last weekend.
Premier Mykola Azarov, whose cabinet is searching for $10 billion to avoid a possible default, survived a no-confidence vote and accuses demonstrators of starting trouble, Bloomberg reported.
"The opposition probably hopes that a massive turnout will unnerve the authorities, forcing them to capitulate or offer major concessions," Ian Bond, foreign-policy director at the Centre for European Reform in London, said Dec. 6 by e-mail.
Activists promoted the rally via Facebook under the slogan: "there must be more of us than last Sunday!" Jailed ex-Premier Yulia Tymoshenko's daughter, Eugenia, addressed protesters from the stage on Independence Square, known as Maidan and the focal point of the 2004 Orange Revolution.
Opposition leaders told the crowds they'd met their goal of 1 million people and urged groups of 30,000 to set up camps near buildings including the presidential administration, which is surrounded by riot police with shields and protective helmets. The Interior Ministry estimated the turnout at more than 50,000.