Iran, Pakistan Agree to Put Gas Pipeline on Fast Track
TEHRAN (Tasnim) – Iran and Pakistan agreed to speed up the implementation of multi-billion gas pipeline project after the two countries' oil ministers met here in Tehran to discuss the project.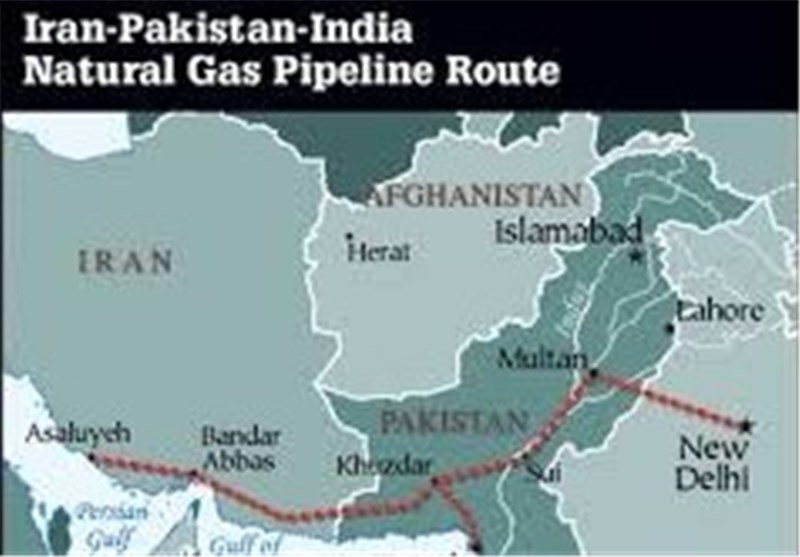 Media reports quoted Pakistani side as saying on Tuesday that the country agreed with Iran to speed implementation of the gas pipeline project.
According to a report by Reuters, Pakistan said both sides would speed up work to finish construction of the pipeline.
"It was also agreed that a meeting will be held shortly between the experts of both sides to review parameters for accelerating work on IP Gas pipeline," the Pakistani foreign ministry said in a statement.
The announcement came as the Iranian oil minister and his Pakistani counterpart met here on Monday to discuss the Iran-Pakistan gas pipeline project, more than a month after Zanganeh said he had no hope of exporting gas to Pakistan due to lack of financing to finish building the pipeline from Islamabad.
The Monday meeting was the first direct contact between Iran and Pakistan at a ministerial level on the IP gas pipeline project after the inauguration of project by the presidents of both countries in March 2013.
In late November, in a meeting between Iranian Foreign Minister Mohammad Javad Zarif and Pakistani Prime Minister's Advisor on National Security and Foreign Affairs Sartaj Aziz in Tehran, the two sides agreed to accelerate negotiations on the IP gas pipeline.
Earlier reports said that Iran's southeastern neighbor has asked the Islamic republic to finance on the gas pipeline to be built on Pakistan soil. Iran has already built its share of pipeline to its border with Pakistan on its soil.
The IP pipeline is designed to help Pakistan overcome its growing energy needs at a time when the country of over 180 million people is grappling with serious energy shortages.
The government of Pakistan, which suffers from chronic energy shortages, especially in the summer, has made it clear that addressing the country's longstanding energy problems will be its top priority, and that it has no plans to reverse the decision on the completion of IP pipeline.
The initial capacity of the pipeline was to be 22 billion cubic meters of natural gas per year, which was expected to be raised later to 55 billion cubic meters. However, as a bilateral project between Iran and Pakistan, the pipeline will carry only 8.7 billion cubic meters of gas per year as contracted and 40 billion cubic meters as a maximum capacity. Under the contract, Iran would export 21.5 million cubic meters of gas per day to Pakistan from next year.
Iran exports natural gas to Turkey, Armenia, and Azerbaijan, and receives pipeline imports from Turkmenistan and the Republic of Azerbaijan.