Standoff in Ukraine as Police Storm Protests
December, 11, 2013 - 12:45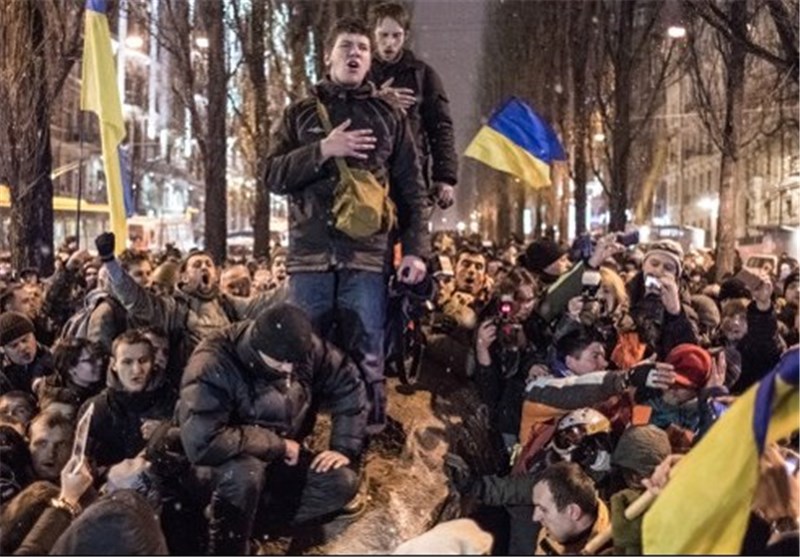 TEHRAN (Tasnim) - In an escalation of the protests that have been going on for weeks, security forces in the Ukraine have stormed a protest, ripping down barricades and tents in the capital Kiev.
Several thousand police in riot gear used their shields to push back protesters and successfully removed some tents and barricades from independence square on Wednesday, but as protester numbers grew from hundreds into the thousands overnight, the police were not able to gain total control.
On one of the main streets leading into the square, a large group of protesters in hard hats, appointed to protect the demonstrators, held back a separate unit of riot police.
Priests intoned prayers from a stage on the square and urged police not to use violence. Ruslana, a Ukrainian singer, called from a loud hailer: "Do not hurt us!"
Al Jazeera's Tim Friend, reporting from Independence Square, said a standoff was in effect.
"The police have effectively reasserted their authority over the square," our correspondent said.
"The protesters are still here. When the riot police first flooded the outskirts of the square the protesters weren't sure how far they would go.
"Protesters moved into a central position where they will remain singing patriotic songs. We have a standoff. It is going to be a long long battle."
Our correspondent said police had managed to restrict access to food and shelter, and were able to prevent more people joining the protests.
The capital has been gripped by more than three weeks of demonstrations against President Viktor Yanukovich's decision to align himself with Russia instead of the European Union.