Thai Red Shirts Prepare Rally to Back PM against Protesters
December, 11, 2013 - 14:30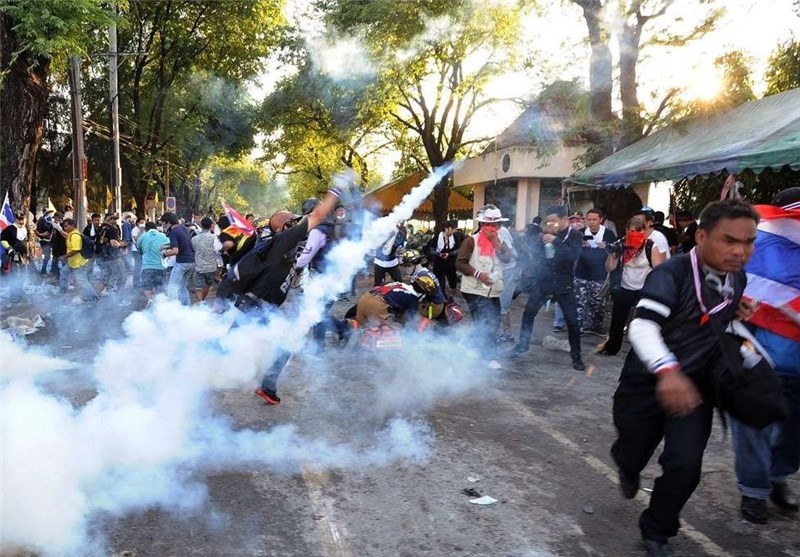 TEHRAN (Tasnim) - The red-shirted supporters of Thai Prime Minister Yingluck Shinawatra said on Wednesday they could take to the streets to protect the government from protesters who have forced her to call a snap election, setting the scene for a possible confrontation.
The warning by the "red shirts" highlights the risks ahead as anti-government protesters keep pushing to eradicate the political influence of Yingluck's brother, former premier Thaksin Shinawatra, a hero in the rural north and northeast who was toppled by the military in 2006.
Protest leader Suthep Thaugsuban, a former deputy prime minister in the previous government that Yingluck's ruling party beat by a landslide in 2011, has ignored her call for a snap election to be held on February 2, Reuters reported.
He wants Thailand to be governed by an unelected "people's council" made up of appointed "good people". Such an unprecedented move alone would potentially spark conflict with Yingluck's red-shirted supporters in the country of 66 million.
The United Front for Democracy Against Dictatorship (UDD), as the red shirts are known, could rally to protect the government, said Jatuporn Promphan, one of its leaders.
"It is the UDD's job to bring together en masse the red shirts and those who love democracy and don't agree with Suthep's methods. There will be many more people than Suthep managed to gather," he told Reuters in an interview.
Suthep, who a few weeks ago resigned the parliamentary seat he had held for 34 years, derives support from a small but powerful minority: the royalist elite in Bangkok and the opposition Democrats, the country's oldest party, who have failed to win an election since 1992.