Anti-Austerity Rallies Rage across Italy
December, 13, 2013 - 13:53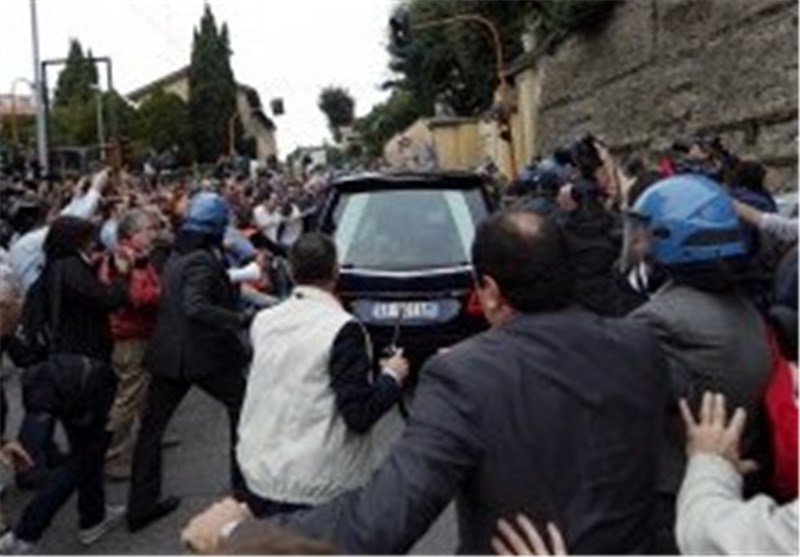 TEHRAN (Tasnim) - Hundreds of students in Rome clashed with police outside a venue where the Italian government ministers were meeting, as part of the so-called Pitchfork protest movement across Italy against EU austerity measures.
Demonstrations also raged in other major cities of Turin, Genoa and Milan, protesting EU austerity measures and Italian government policies, blaming them for the country's persisting economic troubles.
Rome appeared paralyzed Thursday by a number of protests rallies that included various sectors of the Italian society, Press TV reported.
While unionized workers from the tourism sector rallied for the renewal of their collective agreement, hundreds of young physicians gathered across the Parliament building to protest government budget cuts to funding medical training.
Meanwhile, a major protest rally by university students outside a government conference on the green economy turned violent as they clashed with police and threw smoke bombs.
"Our university isn't a catwalk for those who peddle austerity," read a banner at the Rome protest.
Furthermore, thousands of metalworkers marched from People's square to a government building to demand more state assistance to save jobs.
The metalworkers also protested against privatization and plans to sell the companies they work for, as well as government cuts to social welfare.
The protest rallies were organized by FIOM CGIL Union under the motto "Work is a common good." Additional and larger protest rallies are planned in the Italian capital next week.
Meanwhile, in a Thursday briefing on the state of public order in Italy, Italian Interior Minister Angelino Alfano declared that while protest rallies are acceptable in a democracy, violence will not be tolerated.
Alfano further told the Italian parliament that the unrest may "lead to a spiral of rebellion against national and European institutions."

The growing protests across the major European country are fuelled by falling incomes, unemployment above 12 percent, and at a record 41 percent among those below age of 25, as well as graft and scandals among politicians, who are widely viewed as serving their self rather than public interests.