Iran's DM Unveils Cyber Products, Highlights Technology Progress
December, 14, 2013 - 12:18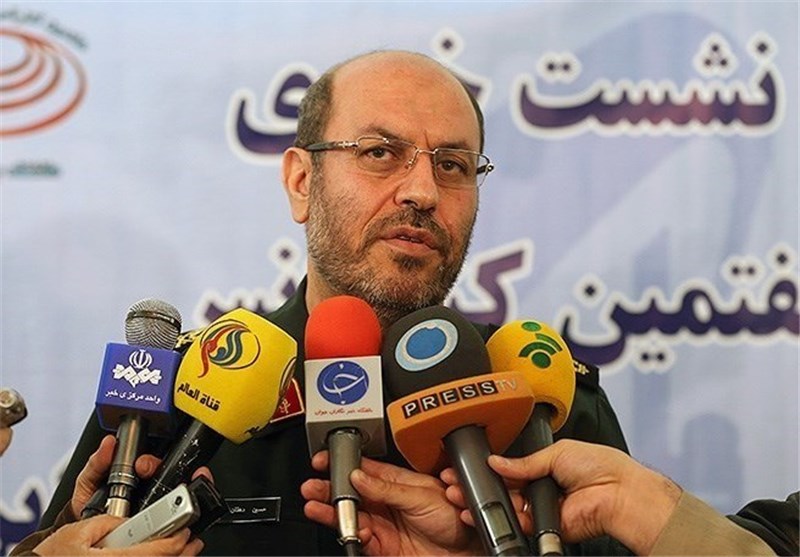 TEHRAN (Tasnim) – Iranian Defense Minister Brigadier General Hossein Dehqan on Saturday unveiled a dozen home-made technological products that are aimed to be used in the country's cyber sectors.
The 12 cyber products, all developed and manufactured by local experts, were unveiled in a ceremony attended by Dehqan, as well as Head of Iran's Civil Defense Organization General Gholam Reza Jalali.
During the ceremony, the defense minister hailed Iranian military experts for making great progress in cyber fields, and said, "producing new items and mastering cyber technologies are among the top priorities of the defense ministry."
An "Indigenous and Safe Operating System" was among the 12 products unveiled in the ceremony.
Dehqan said the new Iranian operating system (OS) is meant to obviate the country's critical infrastructures' need for foreign systems.
Padvish anti-malware, a secure cellular phone, a system to detect cyber threats, high-speed firewall, as well as a cyber system to control industrial operations were some of the new products.
The ceremony also saw the opening of an exhibition, entitled "Towards Safe Indigenous Infrastructure."
More than 30 knowledge-based companies have taken part in the exhibition.
The Iranian experts have in recent years made great headway in producing home-made defensive equipment and have also made progress in securing the country against cyber attacks.
Earlier in October, Iran's Civil Defense Organization planned several cyber drills to find out the weak points of the country's major institutions, such as the Central Bank.
General Jalali had announced that a series of specialized drills were carried out in a number of key organizations, like the Central Bank, the Islamic Republic of Iran Broadcasting and a mobile phone operator to expose their vulnerabilities.
"They had many weak points, and we gave them the necessary warnings to remove the weaknesses," he explained.