President Rouhani Calls for Broader Ties with Kazakhstan
December, 16, 2013 - 14:14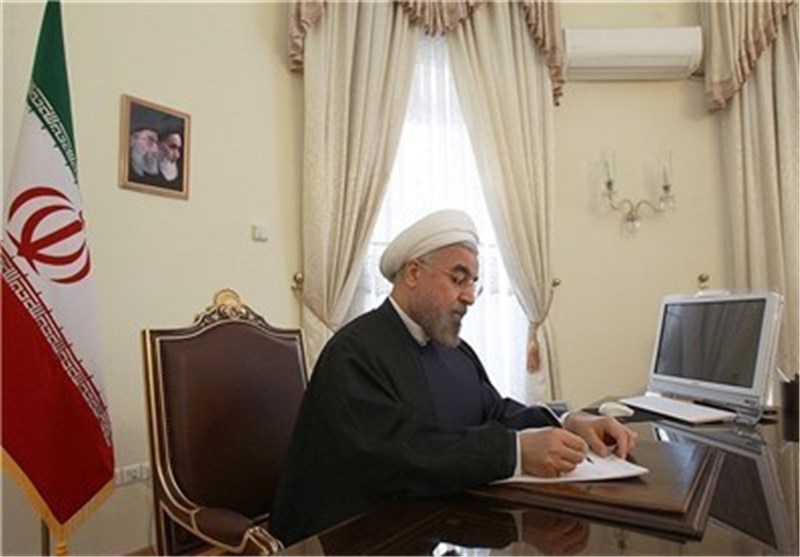 TEHRAN (Tasnim) – In a message to his Kazakh counterpart Nursultan Nazarbayev, President Hassan Rouhani on Monday called for expansion of comprehensive bilateral ties and cooperation between the two countries.
In his message to Nazarbayev on the occasion of Kazakhstan National Day, President Rouhani congratulated the Kazakh president, government, and nation and expressed hope that freindly ties beyween the two countries would expand in all areas in line with interests of both nations.
Kazakhstan became independent on December 16, 1991 - the last Soviet republic to do so. Its communist-era leader, Nursultan Nazarbayev, became the country's first president, a position he has retained for more than two decades.
The capital was moved in 1998 from Almaty, Kazakhstan's largest city, to Astana.
On September 12, Iranian president and his Kazakh counterpart met on the sidelines of an SCO summit in the Kyrgyz capital city of Bishkek and underlined the two countries' resolve to bolster bilateral relations in all fields.
Iran imports grain, oil products and metals from Kazakhstan. Iran is a partner in joint oil and gas projects including construction of a pipeline connecting Kazakhstan, Turkmenistan, and Iran (Persian Gulf) which will give Astana access to the Asian markets.
Kazakhstan has special interests in Iranian investments in mechanical engineering, infrastructure, transport, and telecommunications.
Kazakhstan and Iran are two of the five Caspian littoral states that also include Russia, the Republic of Azerbaijan and Turkmenistan.
In late October Kazakhstan's naval chief, Rear Admiral Zhanarbek Zhanzakov paid a visit to Iran during which he struck a memorandum of understanding with his Iranian counterpart which included agreements on an exchange program for cadets and facilitating repairs and the servicing of vessels at each other's ports.