Kerry Talks with Zarif over Phone, Faces Tehran's Displeasure
December, 16, 2013 - 19:15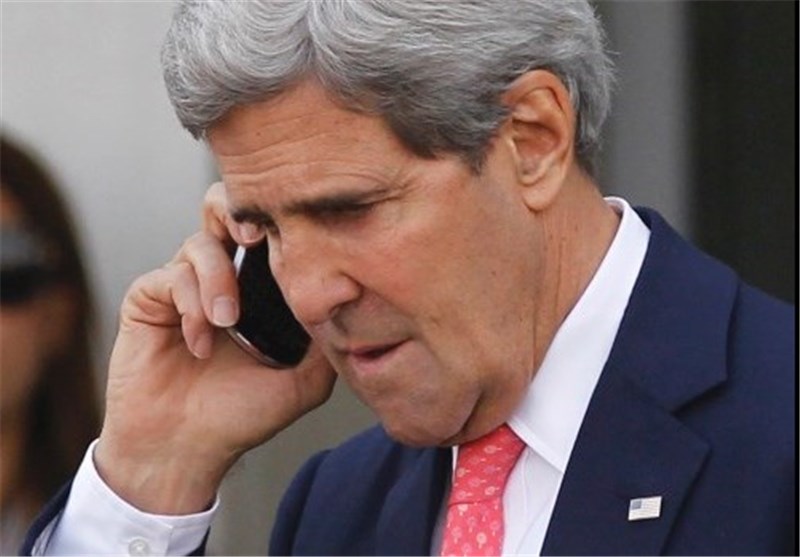 TEHRAN (Tasnim) – In a recent phone talk with Iranian foreign minister to discuss the procedures to carry out the November nuclear accord between Tehran and major world powers, US Secretary of State John Kerry faced complaints from Iran's top diplomat over the latest US blacklisting.
"Following the recent developments regarding the implementation of the Joint Plan of Action, the US secretary of state had a phone call with Dr. Zarif, and our country's ministry of foreign affairs conveyed Iran's displeasure," Iranian foreign ministry said on Monday.
This comes after the US Treasury and State departments on Thursday slapped sanctions against more than a dozen companies and individuals for evading US sanctions against Iran. The blacklisting is widely seen as an attempt to head off moves in Congress to impose tougher sanctions that would be in clear breach of the Geneva agreement.
Zarif told Washington Post on Sunday that despite "extremely counterproductive" American sanctions against Iran, his country is committed "100 percent" to reaching a comprehensive final agreement over its nuclear program.
"We will seriously pursue the Geneva talks, and we will of course give a proper, calculated, purposeful and smart response to any improper and unconstructive action," he added.
According to Zarif, Iranian concern was eased after his contacts last week with Secretary of State John Kerry, Russian Foreign Minister Sergei Lavrov and the chief European Union negotiator, Catherine Ashton.
"What I have heard from Secretary Kerry and Lady Ashton is that they are committed to an early finalization of the Geneva process with a view to reaching a comprehensive agreement. I share that objective."
The new bans can be the bane of the Geneva deal of last month as the sides are still in talks on ways of implementing the document. On Thursday, Iran's delegation left talks with representatives of the G5+1 in Vienna on the implementation of the deal after the US expanded its sanctions blacklist, with Iranian officials arguing the new measures are in breach of the agreement brokered in Geneva last month.
Iran and the Group 5+1 (the five permanent UN Security Council members plus Germany) on November 24 signed a six-month deal on Tehran's nuclear program based on which the world powers agreed to suspend some non-essential sanctions and to imposed no new nuclear-related bans in return for Tehran's decision to freeze parts of its nuclear activities and to allow more inspection of its nuclear facilities.
During the half-year period, Iran and the G5+1 are due to negotiate a comprehensive deal with the aim of resolving for good the standoff over Iran's nuclear program after a decade of on-off meetings and failed attempts.
The fresh anti-Iran sanctions have already drawn condemnation from various Iranian authorities.
"Unfortunately, we are witnessing serious confusion in the approach, decisions and remarks of American officials, and the US administration is fully responsible for the consequences of (these) indiscreet measures," Iran's Foreign Ministry Spokeswoman Marziyeh Afkham said on Friday.
"The onus for consequences of such indiscreet measures is all on the US administration," she warned.