N. Talks Prove Futility of Anti-Iran Sanctions: Zarif
December, 17, 2013 - 11:52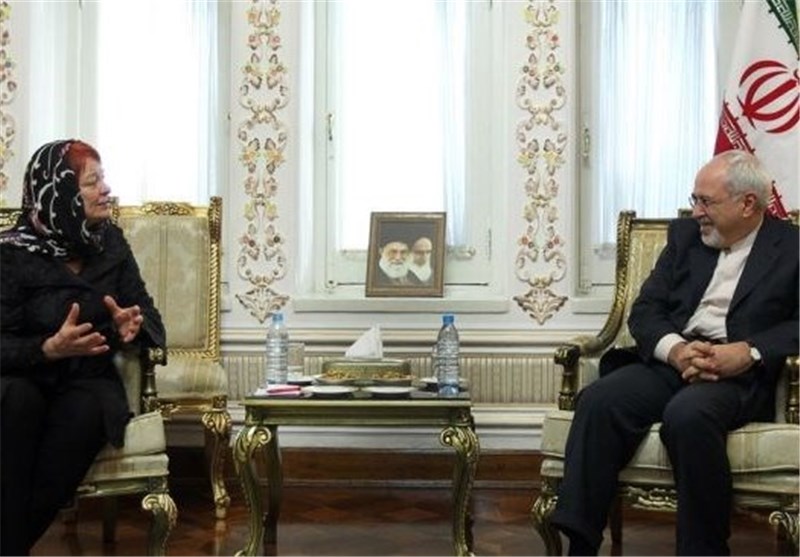 TEHRAN (Tasnim) – Iranian Foreign Minister Mohammad Javad Zarif said the western countries opted to pursue talks with Iran over its nuclear program after they realized that imposing sanctions and making was a blunt instrument to force Tehran abandon its nuclear rights.
"The European and American politicians, have realized the ineffectiveness of resorting to threats and sanctions (against Iran), and the very same issue is the reason behind the two sides' engagement in negotiations over the nuclear subject," Zarif said in a meeting with the chairwoman of a visiting European Parliament (EP) delegation, Tarja Cronberg, here in Tehran on Monday.
His comments came after Iran and the Group 5+1 (the five permanent UN Security Council members plus Germany) on November 24 signed a six-month deal on Tehran's nuclear program based on which the world powers agreed to suspend some non-essential sanctions and to imposed no new nuclear-related bans in return for Tehran's decision to freeze parts of its nuclear activities and to allow more inspection of its nuclear facilities.
During the half-year period, Iran and the G5+1 are due to negotiate a comprehensive deal with the aim of resolving for good the standoff over Iran's nuclear program after a decade of on-off meetings and failed attempts.
Cronberg, for her part, described Iran as an important and influential country in regional and international developments, saying that that European countries and the European Union attach great importance to Tehran's political weight.
The eight-member EP delegation, led by Cronberg of Finland, arrived in Iran on Friday morning to hold talks with a number of senior Iranian officials.
On the upcoming Geneva 2 conference on the Syrian crisis, Zarif said Tehran would take part in the conference if it is invited to the event without any preconditions.
"In case of any initiative, it is the Syrian people who should decide on their own political destiny and future. Iran supports any attempt and plan to this effect, and is ready to attend the Geneva II conference if invited without any preconditions," he pointed out.