Italy's Protesters Demand Government's Resignation
TEHRAN (Tasnim) - Thousands of protesters furious about high unemployment and a political class they regard as corrupt rallied in central Rome demanding the resignation of Italian Prime Minister Enrico Letta's government.
December, 19, 2013 - 14:43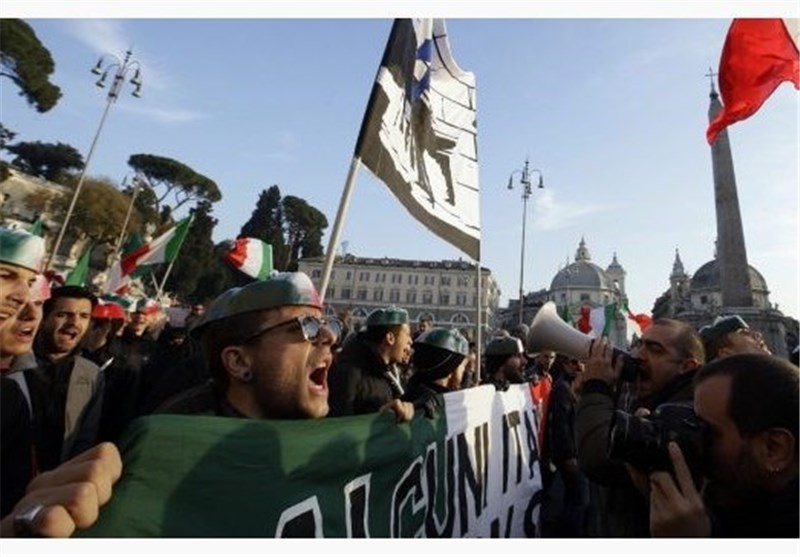 Italy — mired in its longest postwar recession — has the highest debt burden in the euro zone after Greece. It is closely watched by financial markets and European partners as a flashpoint for instability in the bloc.
Thousands of Italians have marched in cities across the country over the last nine days in protests fuelled by falling incomes. The unemployment rate is more than 12 per cent, and the figure rises to more than 40 per cent for those under 25.
"The ruling class is made up of thieves and mafiosi, and they are destroying our country! We are better than this . . . Out, out, out!" shouted Danilo Calvani, a farmer who has emerged as one of the protest leaders, to the cheering crowd in the Piazza del Popolo.
Attempts to address Italy's economic woes have been held up by squabbling between the coalition partners since the left and right were forced into an awkward alliance to end a political stalemate in April.
The wave of "pitchfork" protests, which began among a loosely organized group of farmers in Sicily, has prompted President Giorgio Napolitano to warn that Italy could be plunged into violent social unrest unless the government swiftly introduces reforms to help struggling citizens.
About 3,000 people attended the Rome rally on Wednesday, fewer than expected after some original leaders of the movement refused to endorse the event, saying they feared it could be infiltrated by violent protesters, Reuters reported.
Ringed by police, the crowd waved Italian flags while leaders of the movement gave angry speeches blaming the government for impoverishing the country.
"We do not want to be ruled by this government anymore," said protester Valerio Lorusso, 41, a farmer from Foggia in southern Italy. "They don't represent us, they don't listen to us, they only steal and that's it. We want new elections."
The pitchfork protests have taken on increasingly Eurosceptic tones, with some blaming Europe for years of austerity and economic hardship. The movement has won support from several far-right groups, and several speakers and those in the crowd said Italy should abandon the euro.
"Never before have policies so impoverished the people. If it continues like this we are finished with Europe," said Daniele Iamilli, 42, a security guard from Rome.