Main Phase of Iran's Aerial Drills Kicks off over Persian Gulf
December, 20, 2013 - 11:57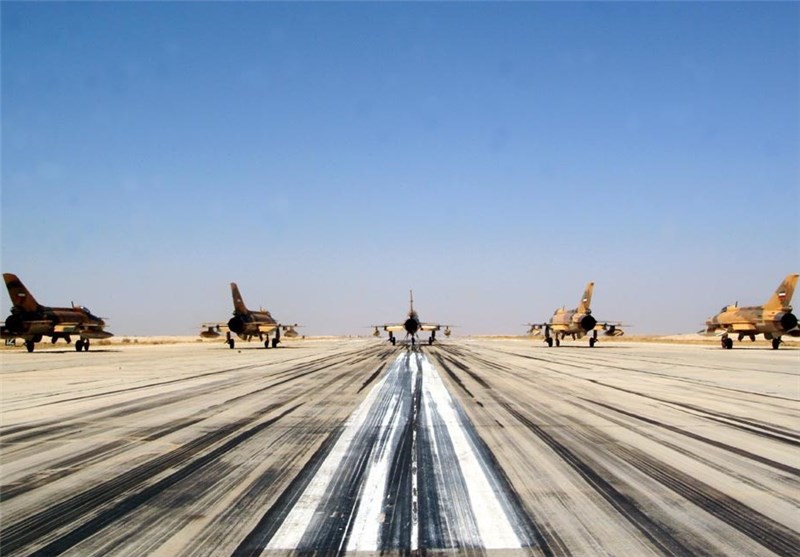 TEHRAN (Tasnim) – Islamic Republic of Iran Air Force (IRIAF) launched the main phase of massive aerial exercises in the country's southern regions on Friday.
The large-scale wargames, codenamed Fadaeeyan-e Harim-e Velayat 4 (Devotees of Velayat Airspace 4), entered its second day - its main phase which involves combat exercises.
Lieutenant Commander of the Iranian Air Force Brigadier General Alireza Barkhor had announced earlier that the ongoing wargames over the Persian Gulf were the fourth such military drills conducted by the IRIAF.
Units from all IRIAF bases are taking part in the three-phase drills. The maneuvers are part of annual exercises aimed at testing indigenous air defense systems, improving the units' combat readiness and displaying the country's military might and achievements, Barkhor said.
"In this phase, tens of various types of interceptor fighter jets, bomber fighters, heavy and semi-heavy transport aircraft, tanker aircraft (used for aerial refueling), reconnaissance planes, maritime patrol aircraft, as well as unmanned aerial vehicles (UAVs) will carry out drills for two days," spokesman for the aerial maneuvers, General Hossein Chitforoush, said on Friday
"During the wargames, the most recent defensive achievements of the Islamic Republic of Iran Air Force will be tested in operation."
According to Chitforoush, the latset drills feature long-range flights by fighter jets without aerial refueling as well as pinpoint targeting using bombs and rockets in air-to-surface and air-to-air operations.
"Air-to-air shooting operations, shooting at aerial targets of different speeds at diverse altitudes, air-to-ground shooting and bombardment with various kinds of home-made rockets and bombs are among the other major parts of these drills that would be conducted in a large area," the spokesman added.
The third edition of these drills were held in Iran's northwestern regions in September 2012.
The latest air drills came almost two months after Army's Khatam al-Anbia Air Defense Base, in coordination with different units from the Iranian armed forces, conducted massive aerial drill from October 9 to 13, codenamed Defenders of Velayat Skies 5.
These exercises were held in the northwestern, central, eastern, and southwestern parts of the country in which 12,000 forces of both the Army and the Islamic Revolution Guards Corps (IRGC) had taken part.
Speaking in a military base here in Tehran on Sunday, Lieutenant Commander of Khatam al-Anbia Air Defense Base General Ali Reza Sabahi-Fard said all the targets, determined before the exercises, were attained during the massive drills.