Protesters Swarm in Thai Capital to Demand PM Resigns
TEHRAN (Tasnim) - Tens of thousands of anti-government demonstrators massed at sites around Thailand's capital on Sunday in a bid to topple Prime Minister Yingluck Shinawatra before an uncertain February election the main opposition party will boycott.
December, 22, 2013 - 15:35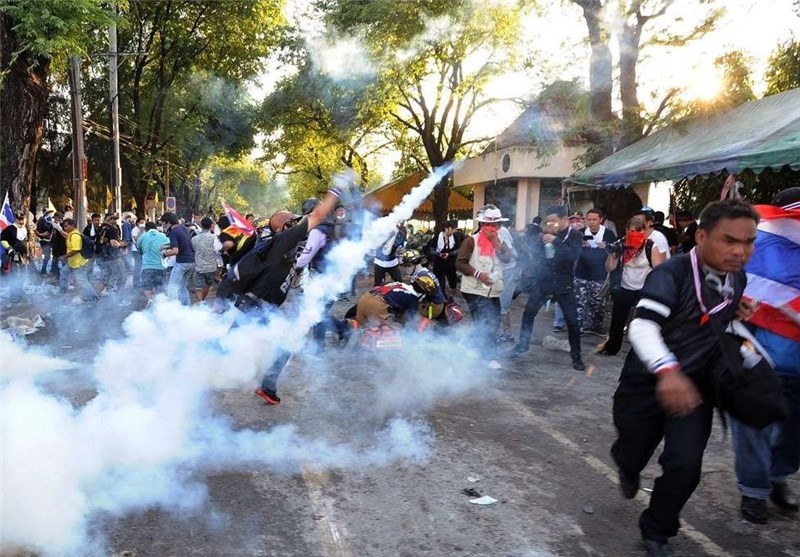 Yingluck has called a snap poll for February 2 to try to cool tension and renew her mandate, but protesters reject any election until the implementation of vague reforms ostensibly aimed at weakening the influence of the Shinawatra family.
The weeks-long political deadlock became more uncertain on Saturday when the opposition Democrat Party, Thailand's oldest, announced it would boycott the election, saying the democratic system had failed Thais.
The boycott adds to concern that powerful forces allied with the opposition would try to scuttle an election that is otherwise likely to return Yingluck's Puea Thai Party to power, and perpetuate the influence of her self-exiled brother, former premier Thaksin Shinawatra.
Chanting "Yingluck, get out", thousands of whistle-blowing protesters gathered at locations around the city and set up stages in at least four places, bringing traffic to a halt at three main intersections and in two commercial districts, Reuters reported.
Hundreds surrounded Yingluck's house and demanded she quit. Yingluck, now caretaker premier, is not in Bangkok and has been visiting the northeast, her party's stronghold.
The protest leader, Suthep Thaugsuban, a former Democrat heavyweight, wants a suspension of democracy and the installation of an appointed "people's council".
"I don't know what Yingluck is thinking. But, what I know for sure now is that all civil servants, the army the police have realized all Thai people are rising up against the government," Suthep told Blue Sky, an anti-government cable television station.
Suthep has earned a reputation for overstated rhetoric during fiery nightly speeches, where he has told police and civil servants to report to him, promised to retire to the beach and issued deadlines to army leaders to meet him to discuss ousting Yingluck.
Yingluck and Thaksin remain hugely popular in the north and northeast, but Suthep's movement is backed by a powerful minority - Bangkok's middle class, bureaucrats, conservative elites and top army generals.