Commander: IRGC Resolved to Safeguard Islamic Revolution
December, 28, 2013 - 16:29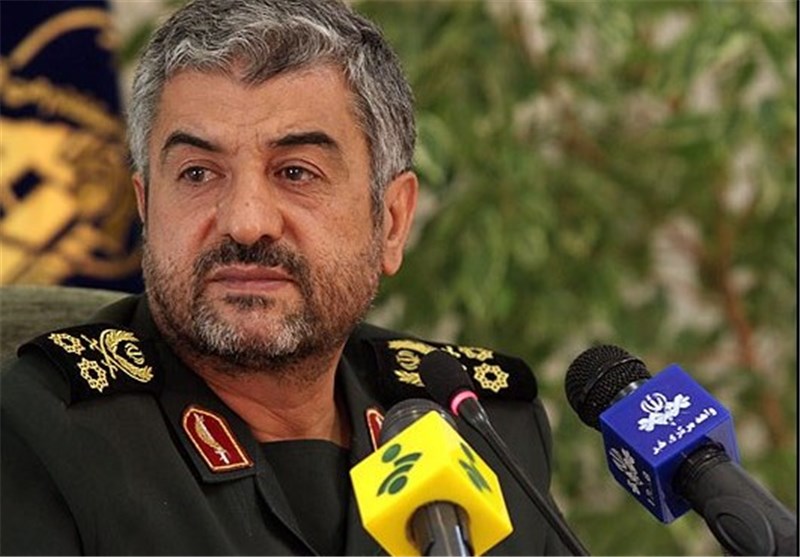 TEHRAN (Tasnim) – Commander of the Islamic Revolution Guards Corps said safeguarding the Islamic Revolution and its achievements against hostile plots is the IRGC's raison d'être, and reiterated that his forces are fully prepared to accomplish the mission.
"The (Islamic Revolution) Guards Corps' duty is to safeguard and protect the Islamic Revolution, and it will defend the (Islamic) Revolution in different arenas proportionate to the requirements of that specific arena," Major General Mohammad Ali Jafari said on Saturday.
Addressing an audience of Basij (volunteer) veterans, here in Tehran, the commander underscored the need for firm determination to uphold the principles of the Islamic Revolution, and called on the war veterans to join hands in protecting the country.
Major General Jafari further asked the Iranian veterans to play active role in Iran's confrontation with the soft war waged by enemies.
Soft war is a term used by Iranian officials to refer to the cultural invasion and soft intelligence tactics used by foreign countries deemed hostile toward Iran.
The IRGC commander further praised the stellar record of the Islamic Revolution over the past 35 years, saying it still continues to improve "dynamically and with a fair speed."
According to Article 150 of the constitution of the Islamic Republic of Iran, "The Islamic Revolution Guards Corps, organized in the early days of the triumph of the Revolution (1979), is to be maintained so that it may continue in its role of guarding the Revolution and its achievements. The scope of the duties of this Corps, and its areas of responsibility, in relation to the duties and areas of responsibility of the other Armed Forces, are to be determined by law with emphasis on brotherly cooperation and harmony among them."