Fresh Clashes Erupt in Bangladesh Oppostion March
TEHRAN (Tasnim) - Tensions were running high across the Bangladesh's capital Dhaka on Monday as ruling party's women activists clashed with oppostion protestors.
December, 30, 2013 - 16:02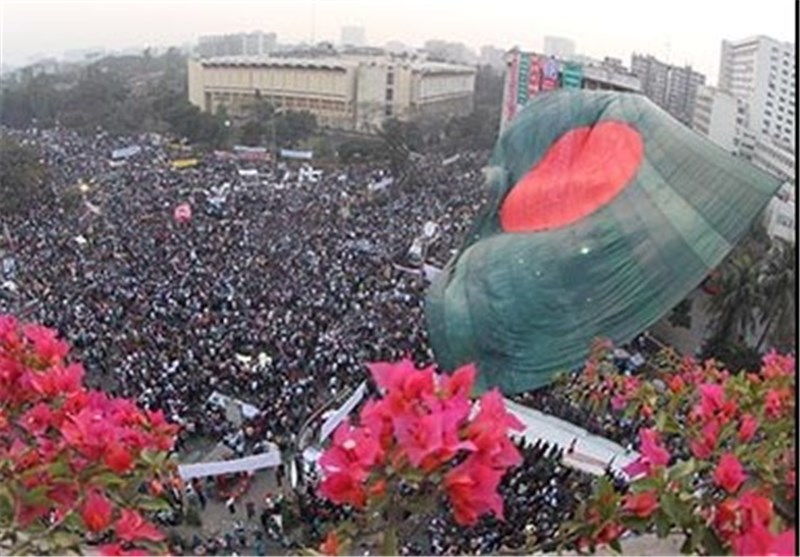 At about 11:00 am local time hundreds of lawyers loyal to former Prime Minister Khaleda Zia's Bangladesh Nationalist Party ( BNP) and its key ally Bangladesh Jamaat-e-Islami party, marched on the main gate of the apex court.
As the procession came close to the gate, women activists of Prime Minister Sheikh Hasina's ruling Bangladesh Awami League (AL) party intervened and threw brickbats to them.
In retaliation, pro-BNP lawyears pelted brickbats and stones and locked in clashes which continued for nearly half an hour.
Clasehs eased as demonstrators retreated after hundreds of ruling party men joined the women activists of AL, Xinhua reported.
Khaleda Zia, who virtually remained confined to her residence, talked to media the march would continue on Monday to put pressure on Sheikh Hasina's government to scrap the parliamentary elections slated for Jan. 5, 2014.
The opposition alliance has boycotted the general election unless Hasina brings back a non-party caretaker system to ensure a free and fair election.
Hasina's ruling party has vowed to resist the anti-government march on Sunday and asked its activists to guard all entry points to Dhaka.