Larijani Asks Iraqis to Resolve Disputes by Relying on National Unity
TEHRAN (Tasnim) – Iranian Parliament Speaker Ali Larijani called on the Iraqi political and religious parties to maintain national solidarity and unity to resolve domestic problems and protect the country's security and progress.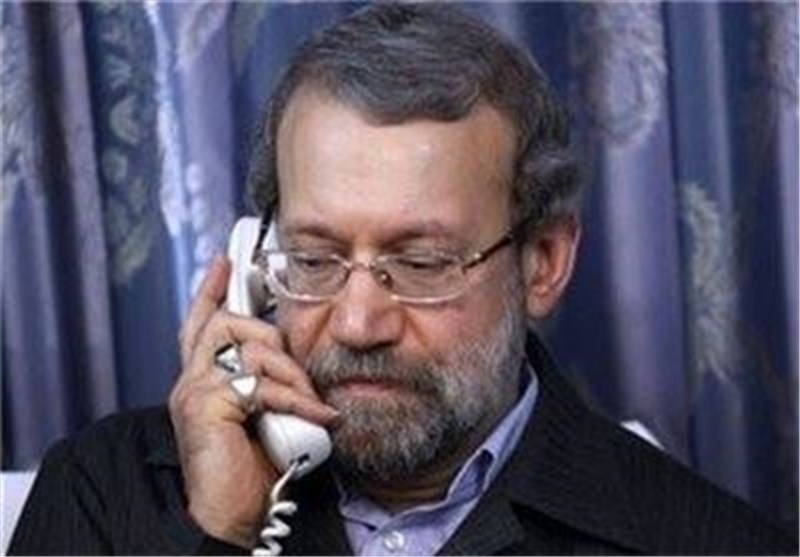 The demand raised by Larijani in a Telephone conversation with Iraqi counterpart Osama al-Nujaifi.
Nujaifi contacted Larijani on Tuesday evening and briefed him about the latest developments in Iraqi province of Anbar and asked the Iranian parliament speaker to help in removing the existing problems.
On Monday, seven gunmen and three police officers were killed in clashes, as security forces took down tents and cleared a sit-in in its provincial capital, Ramadi.
People have been staging protests since last December against what they consider as second-class treatment by the Iraqi government, and against tough anti-terrorism measures.
The government and some tribal leaders in Anbar accused the protesters of offering shelter for al-Qaeda local branch to recruit people and plan for attacks.
The unrest in Anbar followed the weekend arrest of a Sunni politician, Ahmed al-Alwani, who has been prominent among the organizers of the protests.
During the phone conversation, Larijani said Iran has always stressed the necessity for active participation of different religious and political groups in the governance of Iraq.
Larijani expressed his sadness about the resignation of a number of Iraqi lawmakers, saying their move would not resolve the problem.
"The problem can only be resolved through dialogue and cooperation," Larijani added.
The telephone conversation came after 44 members of the Iraqi parliament announced their resignation on Monday in protest at the recent developments in Ramadi.