2 Dead in Clashes between Egyptian Security, Pro-Mursi Protesters
TEHRAN (Tasnim) - About 200 demonstrators in Egypt clashed with security forces and local residents, leaving two dead in the country's second-largest city Wednesday, the Interior Ministry said.
January, 02, 2014 - 15:26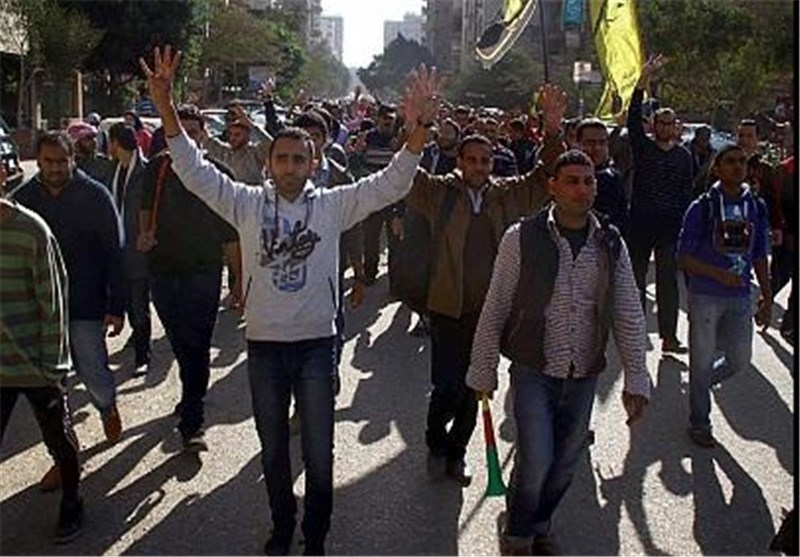 A crackdown by authorities on Muslim Brotherhood rallies in the coastal city of Alexandria left two demonstrators dead and two policemen wounded, according to the Interior Ministry.
"During the demonstrations, protestors cut off roads, threw Molotov cocktails, set fires, damaged private cars, and fired birdshot pellets, and clashed with local residents," the Interior Ministry said.
The Muslim Brotherhood, which was recently designated a terrorist organization by Egypt's military-backed government, claimed security forces had opened fire on demonstrators, killing two, including a college student, and wounding several others, according to a statement on the official Muslim Brotherhood website.
Deadly violence previews key Egypt vote
Social media video, posted by supporters of the now banned Islamist organization, shows a chaotic scene with youths throwing fireworks at police vehicles and small fires smoking near residential apartments and local businesses.
The overthrow of President Mohammed Mursi, a Muslim Brotherhood leader, in July 2013 spurred a deadly crackdown on Egypt's most organized opposition group. The group was recently banned by a court.
Supporters of the organization demand the reinstatement of Mursi, the country's first democratically elected president, and the full restoration of their political and social rights. But the interim government blames the group for a series of coordinated attacks, including a recent bombing on a police headquarters that left 16 dead and more than 100 injured.